Carpet plays a major part in the appearance of any room because it is at the center and edges of the space. No matter what you look at in a room, the carpet is within view. Having dirty carpet can leave visitors with a bad impression. When inviting people into your home, you want them to leave thinking only positive things, not wondering when the last time you had your carpet cleaned was. Fortunately, RestorationMaster can clean and restore your carpet with our top-of-the-line carpet cleaning system to leave all visitors with a great impression of you! Instead of asking when you got your carpet cleaned, they will be asking where did you get your carpet cleaned! We offer our carpet cleaning services to clean and restore all different types of carpeting in Summerville and Goose Creek, SC and have your carpet looking brand new!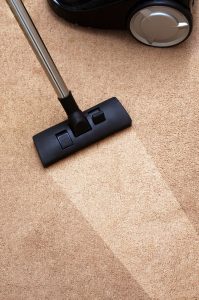 The carpet in your home or office has more traffic than any other piece of furniture. Visitors constantly walking through with their shoes on leaves dirt, debris, and mud embedded into your carpet fibers. Experts have advised homeowners to have their carpets cleaned once or twice a year and businesses even more in order to maintain a fresh clean look. Without this constant maintenance, your carpet will look discolored and filthy.
Other competitors use cleaning products that will not thoroughly clean your carpet. Our competitors' methods are quick and careless and sometimes leave residue behind. At RestorationMaster, our hot water extraction method is so much more effective. We combine boiling water and a small amount of detergent and apply it directly to the carpet. We use a cleaning wand to extract the water from the carpet and take the dirt and debris with it.
Our complete carpet cleaning services include the following steps:
Inspection of carpet and choosing the correct cleaning method.
Pre-treatment of spots and stains
Application of cleaning products to loosen embedded dirt and debris
Thorough cleaning with hot water extraction method
Treat and remove all lingering stains
Groom fibers to improve appearance
We will place pads under all legs of furniture to protect carpet and speed up the drying process.
We inspect the carpet with you after the cleaning process to ensure that you are satisfied with our work.
By making certain that your carpet is clean, you will leave a lasting impression on friends and family. The appearance of your home will immediately look cleaner. If you are looking to make that good impression, call RestorationMaster for our carpet cleaning services in Summerville and Goose Creek, SC. We are available 365 days a year, 24 hours a day at (888) 915-8868. Call today for your free estimate!