Elements Restoration
Mold is a major problem whenever it appears in homes and buildings as it can lead to serious property damage and heath issues.  Mold colonies can form just about anywhere there is excess moisture or water damage and mold feeds on organic substances fund in common materials like wood and drywall.  The spread of the mold, extent of the damage, and risk of adverse health effects will increase until the mold can be removed from the property.
At Elements Restoration, we provide mold remediation services to remove mold growth from homes and buildings in Puyallup, WA.  Our technicians will fully remove all mold growth and help restore the damage it caused.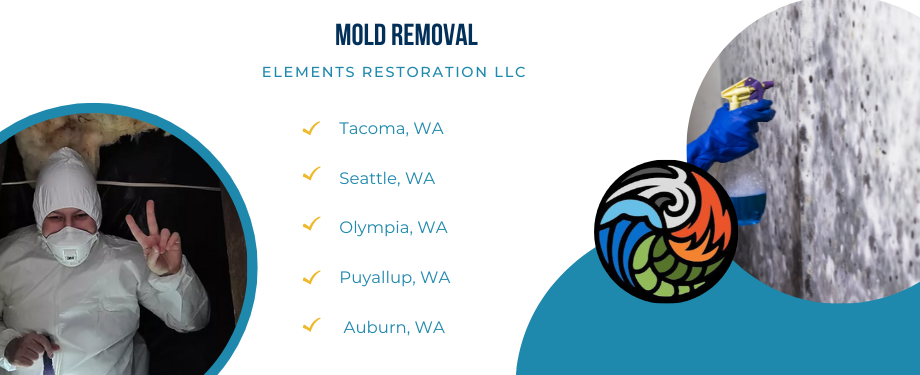 Dealing with Mold Damage
Mold growth is a problem that requires immediate action, no matter how much mold you find.  There is a good chance that the mold you see is not to the full extent as mold growth may be hidden behind walls and ceilings.  The longer mold growth is left, the more likely it is to cause significant structural damage as the mold will eat away at the affected materials.  Mold is also always a risk to spread to new areas of the property.
The other issue to consider with mold is the possibility of negative health effects from exposure.  Those exposed to mold are likely to experience allergic reactions including congestion, coughing, trouble breathing, skin irritation, and itchy eyes and throat.  Those exposed for a long period of time may develop more serious infections.
Professional Mold Removal
When you call Elements Restoration, the first thing our technicians will do is uncover and contain the mold growth to prevent it from spreading.  We will then assess the damage and extent of the mold growth and form a mold remediation plan to remove it.
Our mold remediation services include the following:
Evaluation of the damage
Report to your insurance company
Isolation of the affected areas to prevent the mold from spreading
Preparation of a remediation plan based on our evaluation
Removal of the mold growth and permanently damaged materials and restoration of the affected areas
If you discover mold in your home, calling our professionals to deal with the mold is your best option.  Our technicians are certified, trained, and equipped to remove mold growth safely and effectively.  Attempting to remove mold growth yourself puts your health at risk and you can make the mold worse using improper techniques.
Watch RestorationMaster Video for more information on Mold Removal Services
Make sure to take the following steps when you discover mold:
Call our professionals for mold remediation
Address the moisture source that caused the mold and dry off wet objects and surfaces
Open windows and doors to air out your home
Wear non-porous gloves and eyewear in affected areas
Use an air conditioner or dehumidifier to lower the moisture level in the home
Check the ventilation
You should avoid these actions when you find mold:
Attempting to remove the mold
Cleaning the affected materials with bleach or household chemicals because they will cause the mold to disperse its spores
Paint or caulk over moldy surfaces
Disturb mold colonies as this will cause them to spread their spores
Call Elements Restoration for Mold Remediation
Mold is a dangerous substance that can lead to property damage and health issues if it is not quickly removed.  Our technicians at Elements Restoration can effectively remove mold growth and restore safe conditions in your property.  You can call us at (253) 470-2401 for mold remediation services in Puyallup, WA.
---
---
Recent Reviews
Review by Wyatt James
Disaster Restoration
Rating 5

"Quality work, very respectful, easy to get ahold of"
---
Review by Carol Hildebrand
Disaster Restoration
Rating 5

"We had a water leak in our home and we immediately had a plumber come out to fix it quick. Our plumber suggested we call Sara at Elements Restoration as she would come out quickly and let us know if the damage warranted a homeowners claim or not as the water ran into two rooms in our basement. Sara and Tori were out hours later..not kidding! They would've been sooner but I forgot I had a Zoom meeting so asked her to come later. They checked our home thoroughly and broke the news that this was a bit more damage that what we had thought and advised us to contact our homeowners insurance. We did that and our adjuster said he'd worked with Elements before and trusted their work and gave the go ahead to start demoing our kitchen and two rooms downstairs to find the extent of the damage without having to come out in this Covid world we live in. We had the pleasure of having Dennis and Andrew as our crew and I can't say enough good things about these two. Not only were they professional, courteous, considerate, but they did a great job and were so good putting up with me as I stuck my nose in to see how much of my home was getting ripped up and what kind of damage they found. We also had a bit of a hiccup with our HVAC company as they needed to pull our furnace and water heater and they were holding up progress but Dennis was so patient and actually spoke to them for me to explain what he needed done. They kept me informed every step of the way and truly were a pleasure to have in our home. The only downside is that they can't do our entire job as they aren't remodeling contractors! I give this company and their staff 10 stars out of 5...they are just that good! AND the bonus of supporting small local business was another huge plus for us! Thank you Sara, Andrew and Dennis...you are the best and I will recommend your company to anyone who needs a restoration company! You made an unpleasant situation more than bearable and did an incredible job keep us informed of the process every step of the way! Thank you for everything you do!!"
---