Elements Restoration
Natural disasters like flooding, fires, storms, and mold growth commonly cause significant damage to the structural elements of your home that need immediate repair.  Unfortunately, this is not where the damage ends.  Damage from natural disasters is difficult to contain and almost always affects personal belongings as well as the structural elements and furnishings of the home.  Personal content like clothing, electronics, and valuables can be permanently damaged without quick cleaning and restoration.
At Elements Restoration, we provide content cleaning and pack-out services as part of our disaster restoration in Puyallup, WA.  Our technicians use advanced cleaning and restoration methods to restore a variety of personal content that has been damaged in a disaster.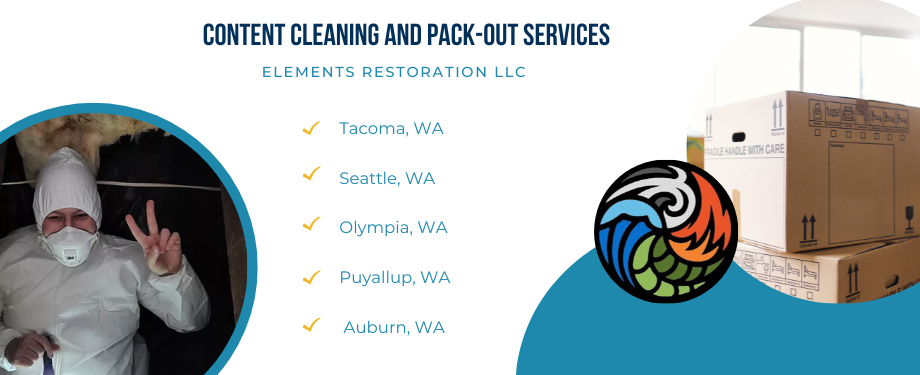 Content Cleaning and Restoration
Experiencing major damage to your home is stressful enough but finding widespread damage to your personal items makes the situation more frustrating.  Water, mold, fire, and smoke can cause significant, sometimes permanent damage to personal content as well as discoloration and odors.  Our technicians at Elements Restoration will ensure that your damaged personal items are restored to prevent permanent damage.  We use advanced cleaning methods and products to clean, disinfect, and deodorize affected content.
In some cases, we can complete the content cleaning and restoration on your property.  If your home has sustained too much damage for us to complete the restoration on-site, we can take your content to our facility for restoration with our pack-out services.
Pack-Out Services
With our pack-out services, we will pack up each of your damaged items so they can be transported to our facility for effective cleaning and storage.  After the restoration of your content is complete, we can store your items while your home is restored and deliver them back to you after the restoration.
Our pack-out services include the following:
Assessment and inventory: We will help identify and assess your damaged items and we will create a detailed inventory list as we pack up your items to help keep track of them. You will be given a copy of the inventory.
Packing: Each item is packed carefully for safe transportation.
Content restoration: We use advanced methods and equipment to clean, restore, and deodorize all types of personal content, including delicate items. We can then store your content safely in our climate-controlled facility and deliver them to your door.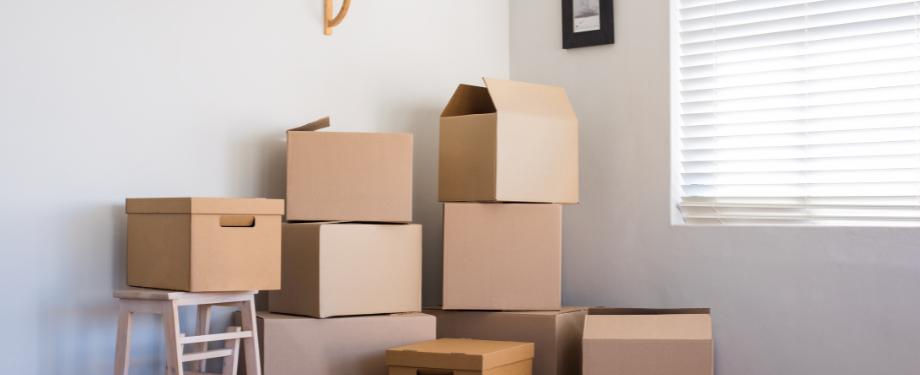 Content Cleaning and Pack-Out in Puyallup, WA
Finding that your personal items have been significantly damaged can make the recovery after a disaster more frustrating.  Our technicians will help bring you peace of mind by restoring your damaged personal belongings and we can even keep them stored safely while your home is restored.
You can reach Elements Restoration 24 hours a day at (253) 470-2401 for content cleaning and pack-out services in Puyallup, WA.
---
---
Recent Reviews
Review by Wyatt James
Disaster Restoration
Rating 5

"Quality work, very respectful, easy to get ahold of"
---
Review by Carol Hildebrand
Disaster Restoration
Rating 5

"We had a water leak in our home and we immediately had a plumber come out to fix it quick. Our plumber suggested we call Sara at Elements Restoration as she would come out quickly and let us know if the damage warranted a homeowners claim or not as the water ran into two rooms in our basement. Sara and Tori were out hours later..not kidding! They would've been sooner but I forgot I had a Zoom meeting so asked her to come later. They checked our home thoroughly and broke the news that this was a bit more damage that what we had thought and advised us to contact our homeowners insurance. We did that and our adjuster said he'd worked with Elements before and trusted their work and gave the go ahead to start demoing our kitchen and two rooms downstairs to find the extent of the damage without having to come out in this Covid world we live in. We had the pleasure of having Dennis and Andrew as our crew and I can't say enough good things about these two. Not only were they professional, courteous, considerate, but they did a great job and were so good putting up with me as I stuck my nose in to see how much of my home was getting ripped up and what kind of damage they found. We also had a bit of a hiccup with our HVAC company as they needed to pull our furnace and water heater and they were holding up progress but Dennis was so patient and actually spoke to them for me to explain what he needed done. They kept me informed every step of the way and truly were a pleasure to have in our home. The only downside is that they can't do our entire job as they aren't remodeling contractors! I give this company and their staff 10 stars out of 5...they are just that good! AND the bonus of supporting small local business was another huge plus for us! Thank you Sara, Andrew and Dennis...you are the best and I will recommend your company to anyone who needs a restoration company! You made an unpleasant situation more than bearable and did an incredible job keep us informed of the process every step of the way! Thank you for everything you do!!"
---