Elements Restoration
Hoarding is a problem that millions of Americans deal with in their daily lives.  Many people misunderstand the cause of hoarding as it is a mental disorder and the behaviors common to hoarding are due to anxiety and depression.  As people affected by hoarding continue to let clutter build, they are allowing for dangerous conditions in their home.  Hoarded items can increase the risk of fire and injuries as well as the appearance of mold and other dangerous materials.  Before a home affected by hoarding can be cleaned out, the affected individual must agree to have the cleaning done.  If you know someone affected by hoarding who is ready to clean their home, you can call our professionals to help with the cleaning.
Elements Restoration provides hoarding cleaning in Puyallup, WA to clean and restore homes affected by hoarding. Our technicians understand that hoarding is a delicate issue which is why we approach the project with compassion and respect and work directly with the affected individual.  We will help decide what to remove from the home and restore safe living conditions.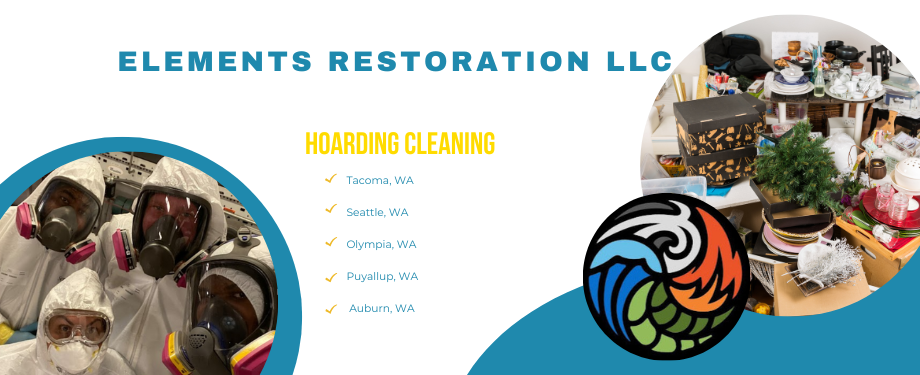 Dangers of Hoarding
Hoarding behaviors create dangerous living conditions for everyone in the home.  Those affected typically keep things in their home because anxiety and depression make it difficult for them to throw away anything.  This causes excessive clutter buildup that can block pathways and exits and increase the risk of injuries from tripping or falling piles of objects.  There is also a high risk of fire because the hoarded items can easily ignite and quickly go up in flames.  In extreme cases of hoarding, dangerous substances like mold and bacteria can appear and create unsanitary conditions.
If you know someone who's home is affected by hoarding, you cannot simply show up and start cleaning the home.  Instead, you should reach out to them and help them understand the dangerous living conditions so that they agree to clean their home.  Only once they have agreed to move forward should you start the process.
Professional Hoarding Cleaning
Our professionals have experience with hoarding cleaning projects and understand the sensitive nature of the situation.  We will first meet with the affected individual to help establish trust before we begin any of the cleaning or preparation.  The affected individual will be involved with every step of the process, and nothing is removed from the home without their approval.
When cleaning the home, our technicians use advanced cleaning products to fully clean and restore the home to safe living conditions.  Our cleaning and restoration is done within the rules and regulations of OSHA, the EPA, and the Department of Transportation.
Our hoarding cleaning process includes the following steps:
Proper disposal: Our technicians work with the affected individual to decide what to remove from the house and what to keep. Nothing is removed without their approval.  We will make sure to safely dispose of the materials that are removed.
Decontamination: After the unwanted items are removed, we will thoroughly clean and disinfect the home to restore safe living conditions.
Deodorization: Our technicians use the proper equipment and methods to remove lingering odors after the cleaning.
Hoarding Cleaning in Puyallup, WA
Cleaning the home of a hoarder is urgent because of the dangerous loving conditions, but it is important to approach these situations with compassion and help the affected individual make their own decision.  Our professionals at Elements Restoration are ready to help those affected by hoarding clean out their homes and restore them to a safe living condition.
You can call Elements Restoration at (253) 470-2401 for hoarding cleaning in Puyallup, WA.
---
Related Hoarding Cleaning Services:
Professional Hoarding Cleanup Company  in Tacoma, WA
---
Recent Reviews
Review by Wyatt James
Disaster Restoration
Rating 5

"Quality work, very respectful, easy to get ahold of"
---
Review by Carol Hildebrand
Disaster Restoration
Rating 5

"We had a water leak in our home and we immediately had a plumber come out to fix it quick. Our plumber suggested we call Sara at Elements Restoration as she would come out quickly and let us know if the damage warranted a homeowners claim or not as the water ran into two rooms in our basement. Sara and Tori were out hours later..not kidding! They would've been sooner but I forgot I had a Zoom meeting so asked her to come later. They checked our home thoroughly and broke the news that this was a bit more damage that what we had thought and advised us to contact our homeowners insurance. We did that and our adjuster said he'd worked with Elements before and trusted their work and gave the go ahead to start demoing our kitchen and two rooms downstairs to find the extent of the damage without having to come out in this Covid world we live in. We had the pleasure of having Dennis and Andrew as our crew and I can't say enough good things about these two. Not only were they professional, courteous, considerate, but they did a great job and were so good putting up with me as I stuck my nose in to see how much of my home was getting ripped up and what kind of damage they found. We also had a bit of a hiccup with our HVAC company as they needed to pull our furnace and water heater and they were holding up progress but Dennis was so patient and actually spoke to them for me to explain what he needed done. They kept me informed every step of the way and truly were a pleasure to have in our home. The only downside is that they can't do our entire job as they aren't remodeling contractors! I give this company and their staff 10 stars out of 5...they are just that good! AND the bonus of supporting small local business was another huge plus for us! Thank you Sara, Andrew and Dennis...you are the best and I will recommend your company to anyone who needs a restoration company! You made an unpleasant situation more than bearable and did an incredible job keep us informed of the process every step of the way! Thank you for everything you do!!"
---