Elements Restoration
(253) 409-0908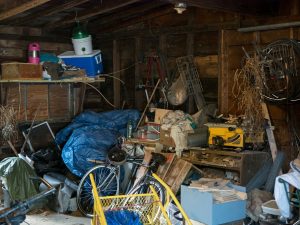 Hoarding has been a misunderstood disorder for many years. Now that better information has brought the details of hoarding to light, hoarding services have recently evolved to be more effective. As a psychological disorder, special precautions have to be taken in order to clean the mess effectively. The causes for hoarding are known, but the hidden dangers are not; therefore, the individual may not be aware of the potential risk they are in. Fire hazards and falling hazards are increased as the situation remains untreated. Elements Restoration offers hoarding cleaning services in Olympia, WA to help sanitize and bring homes back to livable conditions. We assist in organizing personal belongings and remove unwanted items and hazards from the home.
Dangers of Hoarding
Those experiencing hoarding tend to grow an emotional attachment to various objects and may have difficulty parting with them. This can cause an accumulation of items to progressively grow, and become hazardous. Piles may grow and block exits, creating a hazard where they may be unable to exit safely in an emergency. The items may also conceal hidden spills and body fluids that can cause health problems. Mold and mildew can grow in the smallest conditions, spreading quickly without notice. This can cause health complications for those with pre-existing health conditions. Often, the individual affected by hoarding may not be aware, or embarrassed by their condition; therefore, they will not reach out for help themselves. In this case, a trusted loved one is needed to reach out and support them through this difficult time.
At Elements Restoration, we train our staff to handle every situation and assist even the most intense hoarding cases. We ensure that all additional clutter is removed and recover any personal items of value. We pride ourselves on our respectful and professional approach to each case. All individuals' situations are different; therefore, we make sure to establish a trustworthy relationship before performing any cleaning services.
Our professional hoarding cleanup services include:
• Recover valuables, such as money, jewelry and heirlooms
• Dispose of unnecessary rubbish
• Assist in organizing what should be kept, thrown away, recycled, or donated
• Distribute kept items to friends and family members
• Assist with paperwork from trusts, attorneys, and government agencies
Contact Us 24/7
If you know someone that struggles with hoarding in Olympia, WA, make sure to contact Elements Restoration right away to get the situation under control. We ensure a completely thorough cleanup while maintaining a respectful and compassionate relationship with the individual.
We are available 24/7 at (253) 409-0908 for emergency hoarder cleaning services in Olympia, WA
---
Related Hoarding Cleaning Services:
Professional Hoarding Cleanup Company  in Tacoma, WA
---
Recent Reviews
Review by Wyatt James
Disaster Restoration
Rating 5

"Quality work, very respectful, easy to get ahold of"
---
Review by Carol Hildebrand
Disaster Restoration
Rating 5

"We had a water leak in our home and we immediately had a plumber come out to fix it quick. Our plumber suggested we call Sara at Elements Restoration as she would come out quickly and let us know if the damage warranted a homeowners claim or not as the water ran into two rooms in our basement. Sara and Tori were out hours later..not kidding! They would've been sooner but I forgot I had a Zoom meeting so asked her to come later. They checked our home thoroughly and broke the news that this was a bit more damage that what we had thought and advised us to contact our homeowners insurance. We did that and our adjuster said he'd worked with Elements before and trusted their work and gave the go ahead to start demoing our kitchen and two rooms downstairs to find the extent of the damage without having to come out in this Covid world we live in. We had the pleasure of having Dennis and Andrew as our crew and I can't say enough good things about these two. Not only were they professional, courteous, considerate, but they did a great job and were so good putting up with me as I stuck my nose in to see how much of my home was getting ripped up and what kind of damage they found. We also had a bit of a hiccup with our HVAC company as they needed to pull our furnace and water heater and they were holding up progress but Dennis was so patient and actually spoke to them for me to explain what he needed done. They kept me informed every step of the way and truly were a pleasure to have in our home. The only downside is that they can't do our entire job as they aren't remodeling contractors! I give this company and their staff 10 stars out of 5...they are just that good! AND the bonus of supporting small local business was another huge plus for us! Thank you Sara, Andrew and Dennis...you are the best and I will recommend your company to anyone who needs a restoration company! You made an unpleasant situation more than bearable and did an incredible job keep us informed of the process every step of the way! Thank you for everything you do!!"
---