RestorationMaster
A fire can be one of the most devastating experiences. It can destroy your most precious items as well as the structure of your home. One of the most dangerous aspects of fire damage is just how quickly it can spread. Even when the fire has been extinguished, your home is still susceptible to smoke damage. However, RestorationMaster is here to aid you with these issues with our smoke and fire damage restoration services in Olympia, WA, and the surrounding areas. We are available 24 hours a day and will make certain to respond as quickly as possible to your initial call to eliminate any further damage to your home.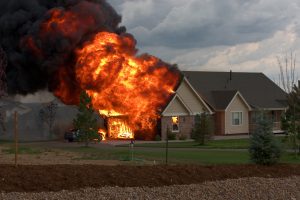 In order to ensure that your home is not damaged any further, you must call RestorationMaster immediately. When a fire engulfs your home, it burns synthetic materials that release corrosive byproducts that can cause damage after the fire is out. If your home does not undergo fire restoration immediately, soot and corrosive byproducts will continue to settle and the damage they cause will become permanent.
Our IICRC certified technicians are able to remove soot damage from the following surfaces:
Aluminum, brass, and chrome
Porcelain, marble, and tile
Carpeting and upholstery
Each of our technicians is trained to handle any amount of fire damage with the latest technology and cleaning equipment.
Our five-step smoke restoration program in Olympia, WA offers the following:
Emergency pre-cleaning
Content pack-out
Wall and ceiling cleaning
After a fire, take the following steps to eliminate further damage until our technicians can arrive:
Steps to Take for Restoring Fire Damage in Olympia, WA:
Contact RestorationMaster right after you are aware of any fire damage restoration service needs. The sooner you call, the more damage will be prevented.
When the weather outside is over 60, open the doors and windows to air out your home.
Clean chrome, porcelain, Formica, and aluminum surfaces to prevent any permanent etching.
If you own a furnace that uses forced hot air, be certain to change the air filter.
Any open food containers and packaging must be thrown away.
When your power is turned off, clean your fridge.
Bring any clothing that has undergone smoke damage to a professional.
Avoid the following when dealing with smoke cleanup:
Avoid touching anything directly with your hands. The oils in your hands can further damage items in your home and create a larger problem.
Cleaning soot off the walls with improper methods can cause a greater problem.
Let the professionals clean the carpet and upholstery, do not try it on your own.
Avoid all electrical appliances until they have been inspected by one of our professionals.
If ceiling fixtures are wet, avoid using them.
Contact Us 24/7 for fire damage restoration in Olympia, WA
Fire damage is always a traumatic situation for a family. However, RestorationMaster does not want this situation to be any more difficult. That's why we are available 24 hours a day to provide emergency fire and smoke restoration services in addition to providing you with a free estimate. 
Contact us at  (253) 470-2401 for all fire damage restoration services in Olympia, WA and the surrounding communities.
---
Related Fire Damage Restoration Services:
Fire and Smoke Restoration Company in Tacoma, WA