ServiceMaster of Old Saybrook, Middletown, and Guilford
Keeping your home, office, or commercial building clean will help maintain the appearance of the space and contribute to a clean and healthy environment.  With consistent cleaning, you can reduce dirt buildup and keep the space neat and orderly, but there are times when a deeper cleaning may be necessary.  If you are moving out of your home or office, recently had some remodeling or construction work done, or have held off cleaning your basement, your property could benefit from a deeper cleaning.
Our professionals at ServiceMaster of Old Saybrook, Middletown, and Guilford can provide one-time project cleaning services to deep clean residential and commercial spaces in Old Saybrook, CT and Middlesex county.  We use effective cleaning products, methods, and equipment to thoroughly clean your space to your satisfaction.
Professional Deep Cleaning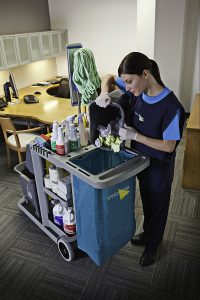 At ServiceMaster of Old Saybrook, Middletown, and Guilford, we provide specialized deep cleaning services for various situations in commercial and residential settings.  Our trained and experienced professionals will assess the condition of your home or building and create a cleaning plan based on our assessment and your specifications.  We use advanced cleaning equipment and products to ensure that your property is cleaned safely and effectively.
When it comes to cleaning your property, your satisfaction is important to us.  We will work with you to understand your expectations and we will not consider the project complete until you are happy with the results.
Our one-time project cleaning services are ideal for the following situations:
Move In/ Move Out Cleaning: If you are moving to a new home, it is beneficial to have your current home thoroughly cleaned and sanitized. With your home empty, our professionals can clean the areas that you could not clean easily yourself.  It is courteous to the next owners to have your home cleaned and sanitized before moving into your new home.  You can also have our professionals deep clean your new home before you move into it.
Post Construction Cleaning: Construction and remodeling projects can create a mess in your home or building that is difficult to clean. There is usually a large amount of dust left over that can spread throughout the property as well as debris such as nails, screws, and pieces of drywall and sheetrock scattered around.  Our professionals can clean your property after a remodeling or construction project to remove the dust and ensure that the area is free of hazardous debris.
Basement Cleaning: Typically, the basement is not cleaned as often as the rest of a home. Unfinished basements especially tend to be dirty and moist and can even have mold and mildew growth.  Our professionals can thoroughly clean and sanitize your basement and remove any mold or mildew.
Seasonal Home Cleaning: If you have a winter or summer home that you live in for part of the year, it is a good idea to give the home a thorough cleaning before you open it up for the season. We can do a deep cleaning of your seasonal home so it is ready when you arrive.
Rental Property Cleaning: When a tenant moves out of a rental property such as a home, apartment, or office space, the landlord or property manager must clean the space to get it ready for the next tenant. Our professionals can clean and sanitize your rental property before the next tenant moves in.
If your home, office building, or rental space could benefit from a professional one-time deep cleaning, call our professionals at ServiceMaster of Old Saybrook, Middletown, and Guilford.  We are not only dedicated to providing quality cleaning services, but also to ensuring that our cleaning services meet or exceed your expectations.  We will work with you to form a cleaning plan and do a final walkthrough with you once the cleaning is complete.  You can reach us at (860) 265-8787 for more information about our one-time project cleaning services in Old Saybrook, CT and the surrounding areas in Middlesex county.
---
Related One-Time Project Cleaning Services
One-Time Project Cleaning in Guilford and Madison, CT
One-Time Project Cleaning in Essex, CT
One-Time Project Cleaning in Middletown, CT