ServiceMaster of Old Saybrook, Middletown, and Guilford
Keeping your property clean is important not only for the sake of appearances, but also to ensure you are living and/or working in a healthy environment. If you clean your home or business on a regular basis, then you can help maintain a clean space, but this standard cleaning will only do so much. Deep cleaning is sometimes necessary, but it requires more thorough, effective work. Deep cleaning is especially beneficial for your property if your property was recently remodeled, if your property just had construction done, if you are moving, or if you rarely use certain areas.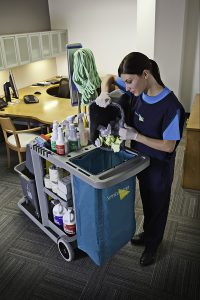 With our professional one-time project cleaning services, ServiceMaster of Old Saybrook, Middletown, and Guilford helps homes and businesses with effective deep cleaning. We clean your residential or commercial property with the best available cleaning methods, equipment, and products, working until we've done the job to your satisfaction.
Professional Deep Cleaning
Our one-time specialized cleaning services are perfect for whenever your home or business is in need of a deep cleaning. We first evaluate your property and use the information we gather to develop a thorough cleaning plan. We will also account for any requirements you want followed. To guarantee quality results with our cleaning services, we use only cleaning products that are safe and effective.
When we conduct our project cleaning services, our goal is to meet your satisfaction. As such, we will spend time understanding your expectations and conduct a final walkthrough with you.
Our One-Time Project Cleaning Services are Ideal for the Following:
Move-In/Move-Out Cleaning: Whether you're moving to a new home or getting a new business space, it's recommended to get your current property and your new property cleaned. It's courteous to the next inhabitants/tenants to have your current property cleaned. It's also nice to move into a new property knowing that it's clean, which we can ensure with the deep cleaning our technicians provide through our one-time project cleaning services.
Post-Construction Cleaning: In the aftermath of a remodeling or construction project, your property may not be safe or clean enough to immediately come back to. This is because dust and other debris, which can include dangerous screws and nails being left around, are found on your property. We can take care of this by cleaning up the leftover debris to make sure you come back to a clean property to live or work.
Basement Cleaning: When cleaning a home, the basement usually gets overlooked, allowing dirt to accumulate there. Mold or mildew growth can develop, too. Our technicians will thoroughly clean up your basement, removing any mold or mildew.
Seasonal Home Cleaning: If you have a winter or summer home, reach out to us to do a deep cleaning on it before you move in for the season. Our technicians will have it clean and ready to be lived in.
Rental Property Cleaning: If you are a property owner who rents out space to tenants, it's courteous to have the properties cleaned prior to the new tenant's move-in. Our technicians will thoroughly clean the property so that it's clean and ready for the incoming tenants.
No matter what property needs a deep cleaning, our technicians are prepared to help with the one-time project services we offer to homes and businesses in Middletown, CT. We will deep clean your property, working until you're satisfied with the results. Call (860) 265-8787 to reach us for our one-time project cleaning services.
---
Related One-Time Project Cleaning Services
One-Time Project Cleaning in Guilford and Madison, CT
One-Time Project Cleaning in Essex, CT
One-Time Project Cleaning in Old Saybrook, CT