ServiceMaster of Old Saybrook, Middletown, and Guilford
Water damage is the most common type of property damage found in homes and businesses. This is because there are so many ways that water damage can happen. There are weather-related sources like heavy rain and flooding, and there building-related sources like burst pipes and plumbing issues. No matter what has caused the water damage, the important thing is to have the water damage problem addressed. Otherwise, the damage will only get worse. Water will continue to be absorbed by porous materials and spread throughout the property, causing electrical problems, mold growth, and structural damage.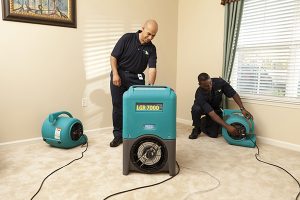 With our water damage restoration services, ServiceMaster of Old Saybrook, Middletown, and Guilford helps homes and businesses in Middletown, CT that have suffered damage by water. No matter how much damage there is, we can help. We evaluate the amount of damage done, taking note of how much water has been absorbed. Our technicians proceed by extracting the water and moisture with our advanced water extraction and drying equipment. Water damage can be stressful to deal with — which is why we are here to help throughout the entire process, doing whatever we can to resolve the issue.
Damage from Excess Water
No matter the amount, water can be problematic because porous materials will absorb it and eventually become damaged. Building materials, such as drywall and wood, and furnishings, such as furniture and carpeting, absorb water and sustain more damage the more water they take in. They can become discolored, stained, warped, or structurally damaged. More water also increases the risk for mold growth.
Sometimes, the water involved in the damage is contaminated with sewage, such as in cases concerning sewage backups or flood water mixed with sewage. If this is the case, any materials that absorb this water can become permanently damaged, because they also absorb the waste materials. Sewage water is also hazardous for your health, because it may contain dangerous toxins. Knowing this, stay away from any water you suspect is contaminated by sewage and call us for help immediately.
Water Damage Restoration from Our Professionals
The professional technicians we employ at ServiceMaster of Old Saybrook, Middletown, and Guilford are prepared to conduct complete water damage restoration, including cases concerning contaminated water and serious flooding. We use water extraction equipment to remove standing water, and we use drying and dehumidification equipment to extract moisture from wet materials. When the water involves sewage and contamination, our technicians clean, sanitize, and restore the damaged areas to prevent health problems.
How to React to Water Damage
Immediately get in touch with ServiceMaster of Old Saybrook, Middletown, and Guilford so that we can get working on the damage promptly.
Blot or mop dry to remove water.
Leave any permanent flooring alone but get rid of rugs and other non-permanent flooring.
Get a coat hanger for your drapes. Place the bottom of the drapes on the hanger and place the hanger on the rod so the drapes don't touch the floor.
Furniture should be wiped down to remove excess water. Prop any cushions up so that they can dry evenly. Beneath the furniture legs, place some aluminum foil there to provide carpeting protection.
Gather pictures, paintings, and other similar objects, and store them in a safe, dry place.
If you have any water-damaged books, make sure they're kept tightly packed together on a shelf to prevent any warping. We can treat them using our specialized drying process.
Open up any drawers, doors, and cabinets to assist with the drying process.
What Not to Do After Water Damage
Unless the power is off, you shouldn't walk in standing water.
Do not remove water with a vacuum cleaner.
Do not get rid of carpeting or permanent flooring if you don't have professional help.
Avoid using electronic appliances if the floor is wet.
Do not attempt to clean up any mildew or mold growth yourself.
If your home or business in Middletown, CT, has suffered water damage, it's in your best interest to immediately call ServiceMaster of Old Saybrook, Middletown, and Guilford at (860) 265-8787 for our water damage restoration services. We can be reached on a 24/7 basis, and our technicians will remove water and conduct repairs in addition to providing you with support.
---
Related Water Damage Restoration Services
Water Damage Restoration in Guilford and Madison, CT
Water Damage Removal in Essex, CT
Water Damage Restoration in Old Saybrook, CT