ServiceMaster of Old Saybrook, Middletown, and Guilford
Of the various types of property damage, water damage is the one that most commonly impacts residential and commercial properties. The reason for this is because of the many ways water damage can happen: flooding, heavy rain, burst pipes, leaks, sewage issues, and plumbing issues among others. Regardless of how the water damage occurred, you need to have the problem taken care of. Water damage only worsens with time, as more water becomes absorbed, and increases the risk for mold growth, structural damage, and electrical concerns.
Serving homes and businesses in Guilford and Madison, CT, ServiceMaster of Old Saybrook, Middletown, and Guilford provides water damage restoration services. We will evaluate the damage and extract the water and moisture with our specialized water extraction and drying equipment. Our technicians are here to help throughout the restoration process, ensuring the job is done thoroughly, to make it less stressful for you.
Damage from Excess Water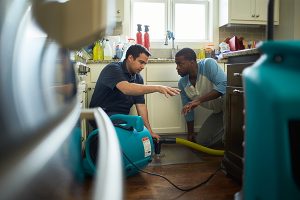 Regardless of how much water there is, be it a small leak or a pool of standing water, it can be concerning. This is because the water gets absorbed by porous building materials and furnishings including but not limited to carpeting, flooring, furniture, drywall, and wood. The more water that these materials absorb, the more damaged they become. Water damage can cause them to become warped, structurally damaged, discolored, and/or stained. And the more water they absorb, the greater chance there is for mold growth to develop as well.
In some water damage cases, the water involved has been contaminated with sewage. This can happen when flood waters are mixed with sewage waters or if there's a sewage backup. Regardless of how the contamination occurred, this is concerning, because sewage contaminated-water can cause permanent damage due to sewage's waste materials. These waste materials may also contain hazardous toxins, making such water dangerous to your health. As such, if you think the water on your property has been contaminated by sewage, keep your distance from it, and contact us for our services promptly.
Water Damage Restoration from Our Professionals
Our technicians at ServiceMaster of Old Saybrook, Middletown, and Guilford are qualified to handle any size water damage case, including ones concerning sewage contaminated-water and severe flooding. With our water extraction equipment, we are able to remove standing water from your property and extract moisture from wet materials. When the case concerns sewage or contaminated water, we reduce health risks by restoring, cleaning, and sanitizing the damaged areas.
How to React to Water Damage
Call us for our water damage restoration services immediately, so that we can get started on the restoration process as soon as possible.
To remove water, use a mop or blot the area dry.
Remove any non-permanent flooring like rugs, but leave permanent flooring as is.
Hang the bottom of your drapes with a coat hanger, and then place the hanger on the rod.
To remove excess water from furniture, wipe them down. Be sure to also prop up any cushions to allow for even drying. Place aluminum foil underneath all furniture legs so that carpeting and flooring are protected.
Store photos, paintings, and other similar possessions in a dry, safe place.
Have any water-damaged books kept together packed tightly on a shelf to prevent warping. We will use our specialized drying process to treat them.
Keep open any cabinets, drawers, and doors in the property. This helps with the drying process.
What Not to Do After Water Damage
Avoid walking in standing water unless the power has been shut off.
Vacuum cleaners should not be used to eliminate any water.
Unless you have professional help, do not remove carpeting or any permanent flooring.
If the floor is wet, do not use electronics and electrical appliances.
Leave any mold or mildew growth alone, and do not clean if yourself.
Call (860) 265-8787 to reach ServiceMaster of Old Saybrook, Middletown, and Guilford at any hour of the day for our water damage restoration services. We can help your home or business in Guilford and Madison, CT, by removing water, the repairing damage, and giving you support.
---
Related Water Damage Restoration Services
Water Damage Restoration in Essex, CT
Water Damage Removal in Old Saybrook, CT
Water Damage Restoration in Middletown, CT