ServiceMaster of Old Saybrook, Middletown, and Guilford
Mold growth can cause a lot of problems, which is why it's a frustrating discovery for home and business owners. Your property suffers damage from mold growth, and your health can suffer, too, with exposure to it. Oftentimes, mold growth occurs as a result of water damage. This is because mold thrives in moist environments. The longer mold goes unaddressed, the more damage it causes, potentially leaving building materials in an unstable state.
Serving homes and businesses in Guilford and Madison, CT, ServiceMaster of Old Saybrook, Middletown, and Guilford provides mold remediation services. Our technicians will remove all cases of mold growth from your property. To do this, we first work to repair the moisture source that led to the mold growth. Then we work to find all cases of mold growth, including hidden mold. To ensure thorough mold removal, we will use advanced remediation techniques. These methods also guarantee that the mold doesn't return.
Important Facts About Mold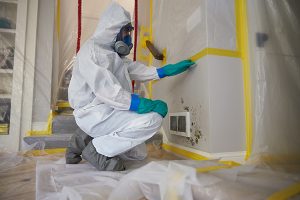 Mold is a fungus that can grow in your property as long as it is given the proper conditions: a moisture source and an organic food source. Once mold spores find these two needs, mold growth begins, and it can happen at any time. This is because mold spores naturally exist in the air. Cellulose is often used as a food source by mold, so building materials like wood and drywall are often affected by mold growth. As mold eats at the building materials, it can spread to new areas, causing more damage. There can also be hidden mold growth on your property.
Mold removal is a hazardous activity to do without the necessary equipment and proper training. As such, the following information further details the danger of conducting mold removal yourself and why it should only be done by mold remediation professionals:
From headaches to coughing to skin irritation, being exposed to mold can cause you to experience allergic reactions. Sometimes, the exposure leads to more severe issues, such as asthma and respiratory infections. The risk for these health problems increases if you decide to remove the mold yourself.
Mold can damage building materials, causing structural problems for your property.
The organic materials found in many building materials are usually used by mold as an organic food source.
Mold growth can be hidden, such as behind walls and ceilings.
Although mold may not be visible, areas damaged by water can feature mold growth.
Our mold remediation professionals will locate all cases of mold on your property and remove it in a safe and effective manner.
Professional Mold Remediation
The professionals we employ at ServiceMaster of Old Saybrook, Middletown, and Guilford have the proper training and the necessary equipment to conduct safe, thorough mold removal. We assess the amount of damage mold has done to your property and isolate the damaged areas to prevent mold from affecting more of your property. Afterwards, we use advanced remediation methods to remove the mold and treat your property and belongings.
Call ServiceMaster of Old Saybrook, Middletown, and Guilford at (860) 265-8787 for the professional mold removal services we provide in Guildford and Madison, CT, and the neighboring areas of New Haven County. We can be reached for our services on a 24/7 basis, and our professionals will safely and effectively eliminate all mold from your property. Additionally, we also make sure that the mold doesn't make a return to your property.
---
Related Mold Remediation Services
Mold Removal in Essex, CT
Mold Remediation in Old Saybrook, CT 
Mold Remediation in Middletown, CT