ServiceMaster of Old Saybrook, Middletown, and Guilford
The presence of mold in a home or building is dangerous because it can cause serious property damage and put the health of those inside at risk.  Mold is most likely to appear in areas affected by water damage or excess moisture and it grows on surfaces such as wood, drywall, wallpaper, carpeting, ceiling tiles, and insulation.  If the mold growth is not addressed, it can spread to new areas of the property and cause deep enough damage to the affected surfaces to threaten their structural integrity.  Any hesitation to deal with mold growth will also increase the risk of negative health effects from exposure.
At ServiceMaster of Old Saybrook, Middletown, and Guilford, we provide mold remediation services to remove mold growth in homes and commercial buildings in Old Saybrook, CT.  Our technicians will locate and remove all mold growth from the property as well as identify and fix the moisture source that caused the mold to grow.  We will ensure that your property is mold free and take steps to prevent the mold from coming back.
What You Should Know about Mold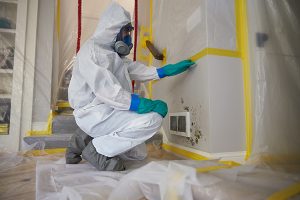 Mold is a fungus that can appear indoors in the right conditions and cause several issues from staining to structural damage and health problems.  There is always a certain level of mold spores in the air which is why mold can appear seemingly out of nowhere when given the right conditions.  Mold feeds on the surfaces it grows on which is why the damage can become extensive with time, and it can disperse its spores which spreads the mold growth throughout the property.  It is always best to have a professional remove mold growth because removing it without the proper equipment is dangerous, and the visible mold may not be the only mold growth present.
It is important to understand the following facts about mold:
Exposure to mold spores can cause a number of allergic reactions and more serious health effects such as respiratory infections with prolonged exposure.
Mold can compromise the structural integrity of the affected materials.
Mold grows best in moist conditions and uses organic materials found in wood, drywall, and other building materials as its food source.
Mold can grow within walls and ceilings where it is not visible.
Materials that are wet for more than two days are likely affected by mold, even if the mold is not visible.
Attempting to remove mold yourself will likely make the problem worse and increase your risk of experiencing negative health effects.
Mold removal professionals can find and remove all mold growth safely and effectively and identify the source of the problem.
Professional Mold Removal
If there is a mold issue on your property, we advise you to call our professionals right away.  We will evaluate the extent of the mold growth and identify areas with hidden mold to ensure that all mold growth on your property is removed.  We have the right protective equipment and cleaning products to remove mold safely, and we will keep the affected areas isolated to protect the rest of your property.
Do not hesitate to call ServiceMaster of Old Saybrook, Middletown, and Guilford if there is mold on your property in Old Saybrook, CT.  Whether there is an obvious mold problem, or you suspect that there is hidden mold, it is best to have our professionals take care of the problem.  You can call us at (860) 265-8787, 24 hours a day for professional mold remediation.
---
Related Mold Remediation Services
Mold Removal in Guilford and Madison, CT
Mold Remediation in Essex, CT 
Mold Removal in Middletown, CT