ServiceMaster of Old Saybrook, Middletown, and Guilford
Fires are perhaps the most difficult disaster to deal with because they quickly cause very serious damage and put your health and safety at risk.  There are many ways that fires can start in a home or building which makes it possible for a fire to break out at virtually any time.  The damage caused by a fire is often extensive and multi-layered which can leave you feeling completely overwhelmed once the fire is put out.  While having the fire extinguished is a relief, the damage can still get worse as the remaining byproducts continue to linger and spread throughout the property.
After the fire department clears your property, you must call for professional fire damage restoration to prevent additional damage.  At ServiceMaster of Old Saybrook, Middletown, and Guilford, we provide complete fire damage restoration services to help homes and businesses in Old Saybrook, CT through the difficult aftermath of a fire.  Our technicians will clean up and restore the damage caused by the fire and provide support to help you through this difficult time.
Damage from Fire and Smoke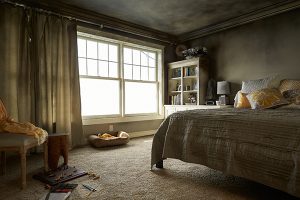 The most obvious damage caused by a fire is from the flames themselves that char and burn away the materials they come across.  The flames of a fire can destroy objects and materials and leave a home or building structurally unstable.  However, it is the byproducts created by the heat of the fire such as smoke, soot, and oily residue that often cause more extensive damage.  These corrosive byproducts outlast the fire and will spread to areas that were unaffected by the fire itself.  Surfaces and objects affected by smoke and soot will experience discoloration and etching and they must be cleaned with the right products and techniques to avoid permanent damage.
Fire and Smoke Damage Restoration Process
Our professionals understand the stress of dealing with a fire and we are ready to provide our support and help you through every step of the recovery process.  Our technicians will do a thorough assessment of the damage and form a complete restoration plan to repair structural damage, restore soot damaged surfaces and materials, and remove lingering smoke odors.  Our fire damage restoration process includes the following steps:
Complete assessment of the damage to form a restoration plan
Board up and stabilization for structural damage
Restoration of surfaces and objects affected by soot damage with specialized cleaning products
Odor removal and air purification
Repair or reconstruction of structural damage
If you experience a fire at your home or building, do not hesitate to call ServiceMaster of Old Saybrook, Middletown, and Guilford to begin the fire damage restoration process.  Our technicians will respond quickly to limit the spread of the damage and get your property restored as quickly as possible.  We will also make sure to keep you updated on our progress through each step.  You can reach us 24 hours a day at (860) 265-8787 for emergency fire damage restoration in Old Saybrook, CT.
---
Related Fire Damage Restoration Services
Fire Damage Restoration in Guilford and Madison, CT
Fire Damage Recovery in Essex, CT
Fire Damage Removal in Middletown, CT