A fire almost always strikes without warning and in a very short period of time, they can cause extensive damage to a home or building.  The top priority in case of fire is to make sure everyone is safe but once their safety is secured and the fire is out, the focus should immediately shift to the restoration process as corrosive byproducts and soot will cause the damage to continue to spread.
RestorationMaster provides fire damage restoration to help homes and businesses in North Las Vegas and Las Vegas, NV recover after a fire.  We are dedicated to getting your home or building restored as soon as possible after a fire to prevent further damage and minimize the interruption to your daily life.

Fire Damage Restoration Las Vegas, NV
The technicians of RestorationMaster are licensed and insured to handle fire and smoke damage restoration services in commercial and residential settings.  We use the most advanced cleaning equipment and products of the industry to clean up charring and soot damage caused by the fire and repair damaged structural elements.  Our technicians will communicate with you through every step of the restoration to keep you updated on our progress.
The fire damage restoration services we provide include the following:
Soot Removal
Building Restoration
Carpet, Rug, and Upholstery Cleaning
Antiques and Fine Art Restoration
Electronic Equipment Restoration
Data and Document Recovery
Safety and Compliance
Restoration Dry Cleaning
Fire Restoration Las Vegas, NV
For emergency fire damage restoration in the Las Vegas and North Las Vegas, NV area, call RestorationMaster at (702) 718-5486.
Dealing with Fire Damage
Once the fire is completely put out, beginning the recovery process is a race against the clock as the damage can continue to spread and even become unsalvageable.  Soot, chemical emissions, and other corrosive byproducts will continue to spread throughout the home after the fire is extinguished and the tarnishing and etching it causes to various surfaces will become permanent if it is not cleaned up quickly enough.  Soot damage can be especially troublesome as it is caused by smoke that often spreads to areas beyond those affected directly by the fire.  Our technicians use the right chemical combinations to remove soot damage from a variety of household surfaces such as marble, chrome, aluminum, brass, porcelain, carpeting, and upholstery before the tarnishing becomes permanent.
Knowing what to do and what not to do in the aftermath of a fire can save you time and money on the recovery process.  It is crucial to make sure the fire is put out immediately because it will only spread and get worse in the dry Las Vegas climate.
Steps to take when dealing with fire damage restoration:
Call RestorationMaster immediately for fire damage restoration services to avoid permanent damage.
Open up your doors and windows to air out your home if the temperature is 60 degrees or warmer.
Wipe down Formica, chrome, porcelain, and aluminum fixtures to prevent permanent damage.
Change the air filter of furnaces that use forced hot air.
Cover return and supply registers and vents with damp cheesecloths to filter soot from the air.
Dispose of open food containers.
Clean out your refrigerator thoroughly if the power is out.
Save smoke damaged clothing for our restoration dry cleaning services.
Avoid the following when dealing with fire damage:
Do not touch anything because the natural oils in your hand cause further damage.
Do not wash soot residue from the walls because doing it improperly can make it worse.
Do not clean your carpets or upholstery.
Do not use electrical appliances until they have been checked for safety.
Do not use ceiling fixtures on a wet ceiling.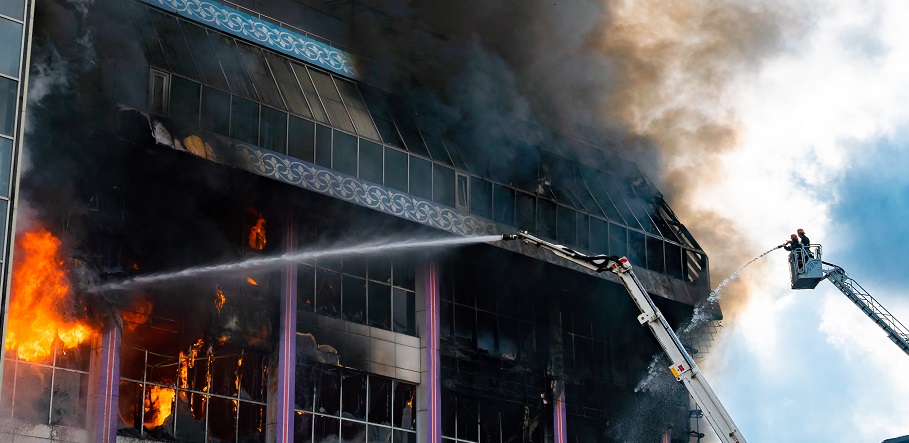 Smoke Odor
Sometimes a fire can result in more than physical damage as the odor from the smoke and charring may linger in a home for months.  Our technicians will remove any smoke odor left behind from a fire as part of the restoration process so that you do not have to live with unpleasant odors.  We use the most advanced odor removal equipment available including Nano carbon technology, thermal fogging, hydroxyl technology, and ozone technology to effectively remove unpleasant odors from furnishings, structural elements, and air spaces.
Available 24/7
As soon as the fire is put out, contact RestorationMaster for fire and smoke damage restoration services.  We can repair and restore fire damage in North Las Vegas and Las Vegas, NV quickly and efficiently to get your life back to normal.
We are available 24 hours a day at (702) 718-5486 to respond to all fire damage emergencies in the Las Vegas and North Las Vegas, NV areas.
---
Related Fire Damage Restoration Services
Fire Damage Mitigation Henderson, NV
Fire Damage Repair Mesquite and Boulder City, NV
Fire Damage Mitigation Bullhead City, AZ
Fire Damage Restoration Laughlin, NV
Smoke Damage Restoration Lake Havasu City, AZ
Fire and Smoke Damage Restoration Kingman, AZ