There may come a time when you encounter or experience a trauma scene involving serious injury or death and if there are biohazard materials involved, it is best to call a certified professional for safe cleaning and restoration.  Biohazard materials such as blood and bodily fluids typically contain harmful pathogens and bacteria that can cause infection or disease and it takes special training and equipment to safely remove these dangerous materials.
RestorationMaster provides crime scene and biohazard cleanup in Las Vegas, North Las Vegas, Enterprise, and Paradise, NV to safely remove biohazard materials as well as clean and decontaminate the scene.
Biohazard Cleanup Las Vegas
There are several different types of biohazard materials that require professional cleaning services including blood and blood-borne pathogens, bodily fluids,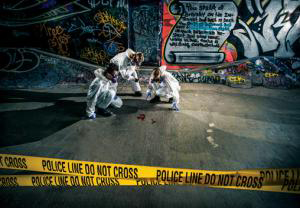 mold and mildew, sewage, and hazardous chemicals.  It takes a high level of training, preparation, and specialized cleaning equipment and products to effectively remove dangerous biohazard materials and our technicians can safely clean and restore contaminated content and structural materials while following state health and OSHA regulations.
RestorationMaster is trained and equipped to provide the following biohazard cleaning services:
Crime Scene Cleanup
Law Enforcement Vehicle Cleaning and Sanitizing
Undetected Death Scene Cleanup
Suicide Cleanup and Sanitizing
Biohazard Spills or Leakage
Trauma and Crime Scene Cleaning
Sometimes trauma scenes that involve serious injuries or death are also crime scenes and if this is the case, then the restoration must be done in close cooperation with law enforcement.  The technicians of RestorationMaster are trained to cooperate with law enforcement for crime scene cleaning jobs to avoid contaminating the scene in a way that jeopardizes the investigation.  Our technicians also understand the sensitivity and emotions involved and we are trained to help ease your stress and approach the situation with a sense of compassion for the victim's family.
The crime scene cleaning services provided by RestorationMaster include the following:
A compassionate approach and respect for your privacy
Safe removal of all biohazard materials and thorough cleaning and decontamination of the scene
Safe disposal of biohazard materials
Effective cleaning services done within local, state, and federal safety regulations
If a crime or accident involving a serious injury or death occurs on your property, alert the proper EMT and law enforcement authorities and call RestorationMaster EMT for trauma scene and biohazard cleaning services.  Our technicians have the right training and equipment to clean and restore trauma scenes that contain dangerous biohazard materials in Las Vegas, North Las Vegas, Enterprise, and Paradise, NV.
Available 24/7
You can reach us 24 hours a day at (702) 718-5486 for all biohazard cleaning emergencies in the Las Vegas, NV area.
---
Related Biohazard and Trauma Scene Cleanup Services:
Biohazard and Trauma Cleanup Henderson, NV
Biohazard Cleanup Laughlin, NV
Biohazard Cleanup Bullhead City, AZ
Biohazard Cleanup Kingman, AZ
Biohazard Cleanup Lake Havasu City, AZ