When your home requires a renovation or reconstruction, the leftover debris can be a hassle. Once completed, your property is often dirty and hazardous from the project. Often times these projects leave behind dirt or dust which may settle into the floors, dirtying your home.
ServiceMaster EMT offers post construction cleanup services to clear away the aftermath of construction and restore the property in Las Vegas and North Las Vegas, NV. We restore the site while removing leftover dust and dirt so you can safely return to your property.
Post Construction Cleanup Las Vegas, NV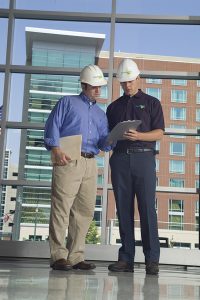 Construction is a messy job, and the aftermath can depreciate your home. Workers can track in dirt and mud through your building, allowing the risk for bacteria to grow. Building materials can also be forgotten, leaving nails and screws lying around that could cause injuries if not properly cleaned up. When working with lumber, sawdust is always a common occurrence on job sites, but the effects it may cause are significant.
Allergies or breathing complications can be serious to the health of those with respiratory problem; therefore, the property will require a thorough cleaning. Your ventilation system could also be at risk, as it may become clogged due to the excessive buildup from the dust. However, ServiceMaster EMT ensures that our staff will work with the local codes and insurance requirements to thoroughly clean up after construction, removing all remaining residue.
Our post construction cleaning services include:
Paint overspray removal
Dusting air diffusers
Cleaning light fixtures
Cleaning Restroom fixtures
Spot cleaning of walls and interior glass
Vacuuming and spot treating carpet
Damp mopping of hard surface floors
Debris Removal
When the construction is done, the property may require a thorough post construction cleaning. Making sure that the additional debris and residues leftover from the work are removed is essential. ServiceMaster EMT will work with each client's individual needs and clean to their satisfaction. Upon arrival, we will create a plan of what needs to be handled, solidifying a time frame to have it completed.
We work within the specific needs of the individuals while also providing estimates for insurance companies. We will then send a trained field supervisor for your project to guarantee that all measures have been taken to clean your home to your standards.
If you have a construction project in Las Vegas or North Las Vegas, NV, contact ServiceMaster EMT once it is completed to provide your property with a quality post construction cleaning. We pride ourselves on being a reliable and professional company that can have your building looking pristine after construction.
Get a Free Estimate
Finally, you can reach at (702)786-1999 for all post construction cleaning services.
---
Related Post Construction Cleanup Services:
Post Construction Cleaning Henderson, NV
Post Construction Cleanup Boulder City and Mesquite, NV
Post Construction Cleanup Lake Havasu City, AZ
Post Construction Cleanup Kingman, AZ
Post Construction Cleanup Laughlin, NV
Post Construction Cleanup Bullhead City, AZ
More Reviews