Having to renovate your home can be a hassle. When your building sustains major damages and needs to be reconstructed, the mess isn't over once the project is finished. The mud and dirt dragged in from the workers can leave your flooring tarnished and dirty. The sawdust from the lumber can carry over off the site and cause the nearby area to become a hazard as well.
When you have a construction project, be sure to call ServiceMaster EMT for quality post construction cleaning in Henderson, NV. Our staff ensures all aspects of your site have been cleared and safe for your return.
Post Construction Cleaning Henderson, NV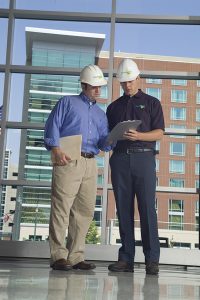 Construction is not a basic job. There's a lot of work involved that can leave an aftermath of distress on your property. The leftover drips and sprays from paint can make your walls appear grimy. Removing the paint can be a hazardous job with dangerous chemicals. Your fixtures could also be affected, and accumulate dust, making them look filthy.
These fixtures can be difficult to clean such as light fixtures or mirrors in bathrooms. The debris from the construction may not be visible, but can cause health effects for those with allergies. Dust and dirt can also gather in your ventilation systems, causing it to damage your machinery and stick you with costly repairs.
However, ServiceMaster EMT in Henderson, NV prides itself on strict observance of the local codes and insurance requirements for a smooth transition from construction to homecoming.
We offer a variety of post construction cleanup services such as:
Paint overspray cleaning
Dusting air diffusers
Light fixture cleaning
Restroom fixtures cleaning
Spot cleaning for walls and indoor glass
Carpet treatments
Mopping for hard floorings
Cleaning Up After Construction
Once the construction is finished, there is another mess to clean; the physical debris is just a portion of the potential hazards that can be lurking after a renovation. With allergy and serious health conditions, the aftermath of the project can cause problems for individuals if not properly disposed of. As everyone's situation is different, ServiceMaster EMT will meet and discuss the desires of all individuals while addressing all questions and concerns.
This allows us to get a pristine and superior clean every time. We also solidify a timeframe so we can work with your busy lifestyle. When we receive your call, we will assign you a field supervisor who will oversee the services to your satisfaction. We also communicate with the insurance companies and offer estimates for all claims.
When you need a quality post construction cleaning in Henderson, NV, contact ServiceMaster EMT for professional services. We pride ourselves on being a reliable and professional company that can have your building looking pristine post construction.
Free Estimate
You can reach us 24 hours a day at (702)786-1999 for post construction cleaning.
---
Related Post Construction Cleaning Services:
Post Construction Cleanup Services Boulder City, NV and Mesquite, NV
Post Construction Cleanup Las Vegas, NV
Post Construction Cleanup Lake Havasu City, AZ
Post Construction Cleanup Laughlin, NV
Post Construction Cleanup Kingman, AZ
Post Construction Cleanup Bullhead City, AZ
More Reviews