It is a relief to get back into your home after it has undergone significant repair work from a disaster but if there is an odor still lingering, it can spoil your return home.  There are several different types of disasters and other factors that can cause a foul odor in a home or building and effective deodorization requires professional services.
ServiceMaster EMT provides smoke deodorization and odor removal to eliminate odors from homes and buildings in Henderson, NV.  We have the training and equipment to remove all types of odors from smoke, mold, and biological sources.
Deodorization
Our technicians use the most advanced deodorization equipment available including Nano carbon technology, thermal fogging, ozone technology, and hydroxyl technology to thoroughly eliminate the following types of foul odors: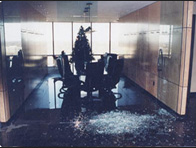 Smoke and fire odor
Pet and dead animal odor
Death scene and biological odors
Musty odors from water and mold
Our multi-step deodorization process not only removes a variety of odors, but also prevents them from returning.
Odor Removal Henderson, NV
You can expect the following with our deodorization services:
Removal of the source of the odor
Treatment of contaminated structural elements and furnishings
Treatment of contaminated air
Air washing
Sealing of porous surfaces
Thorough documentation of the deodorization process
Types of Odors Removed
The deodorization process we use eliminates the following types of odors:
Fire Damage and Smoke Odor: Any odor left by smoke or fire can be removed from the structural elements, furnishings, and air spaces of your home.
Water Damage and Mold Odor: Excess water or moisture can cause a musty smell and lead to mold growth which also produces an odor.  We can remove mold and mildew odors caused by water damage.
Biological Odors: Any odors from biohazard sources such as blood, bodily fluids, and dead animals can be removed with our deodorization process.
Free Estimate
Discovering a foul odor in your home after restoration has been completed is very frustrating but ServiceMaster EMT will effectively remove these odors from your home or business in Henderson, NV with our smoke deodorization and odor removal services.  We are available 24 hours a day at (702) 786-1999.
---
Related Odor Removal Services:
Odor Removal Las Vegas, NV
Odor Removal Lake Havasu City, AZ
Odor Removal Laughlin, NV
Odor Removal Kingman, AZ
Odor Removal Bullhead City, AZ
More Reviews