Hoarding can be classified in a number of ways. Often times hoarding starts small and can often grow larger and out of control. Hoarding is a mental disorder that can often cause the individual to become emotionally bonded to objects or animals, normally due to high anxiety. Those affected may be ashamed or embarrassed, hesitant to seek out help.
Effects of Hoarding
Hoarding is often misunderstood and needs to be handled with the utmost discretion and professionalism. Because hoarding can include an attachment to a variety of items, this may lead to hazardous situations that can be dangerous to your loved ones. Fire hazards from flammable materials or objects blocking emergency exits in case of emergency are particularly worrisome.
Another possible issue is tripping or falling hazards. Items in pathways could fall, possibly leading to severe accidents. In this case, the individual affected will need assistance in restoring their home back to its original condition. Finally, ServiceMaster EMT ensures that your loved ones' home and health will be the top priority during our restoration process.
Hoarding Cleaning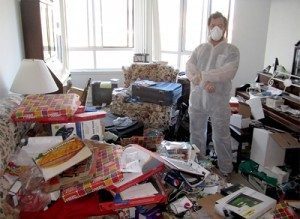 ServiceMaster EMT provides hoarding cleaning services in Boulder City and Mesquite, Las Vegas, NV to give those affected a trusted and quality cleanup. The wellbeing of your loved one is one of our top concerns; we make sure to assess and remove all potential issues that are found within the home. You can trust that when it comes to your loved ones, we are the leaders in superior cleaning technology.
Hoarding isn't just a visual problem; other issues may arise that cannot be seen. Bacteria and mildew may be growing in areas that are not visible, beginning to spread without notice.
For individuals that have breathing problems or asthma, this can cause complications and may aggravate the condition. Removing this will require advanced equipment, to ensure a pristine clean and eliminate mold and mildew at the source.
For biohazardous materials, ServiceMaster EMT also uses quality personal protective equipment (PPE) available, to ensure the safety of our staff safe during the cleanup. We take special care to follow the rules and regulations within the EPA, OSHA, and the Department of Transportation.
Our hoarding cleaning includes the following procedures:
Decontamination: We handle all levels of cleaning from mildew removal to bio hazardous disposal, and use modern methods of sanitizations available for a thorough clean
Odor Removal: Odors can be difficult to remove, so we use advanced equipment to find, eliminate and remove odors within the home and leave you with a pristine clean
Proper Disposal: Some items may need special care when being removed, so we offer all forms of disposal, from donation to rubbish removal
Hoarders often are not aware that they have been creating a dangerous environment, and must be treated with care. The emotional toll of cleaning may be overwhelming as we will take a compassionate approach when cleaning their home. Because this is a delicate situation, we will work hard to establish a relationship with the individual before starting the cleanup.
Free Estimate
If you live in the Henderson, NV area and have a loved one affected by hoarding, contact ServiceMaster EMT.  We are available 24/7 at (702)786-1999 for professional hoarding cleaning services.
Related Hoarding Cleaning Services
Professional Hoarding Cleanup in Las Vegas, NV
Experienced Hoarding Cleaning in Mesquite, NV and Boulder City, NV
January 16, 2020
Chris arrived within an hour of our first call to our insurer on Jan 3. He quickly set up drying equipment. When the plumber IDd another leak, Chris quickly set up more drying equipment, so the drying process began within a few hours of leak ID (as soon as plumber was done.) Jason came promptly to do the teardown. All was dry within a day, and Chris came back very quickly again to remove the equipment. All was polite, clean and quick.
More Reviews