Construction can be a dangerous project that can leave your home full of hazards. Once the project is finished, you may find the aftermath has caused you a level of distress. Leftover tools, dust and dirt, and paint over sprays can all leave your building with an unsafe environment. Nails and tools left behind can cause a safety issue for your home, other residents, and pets; therefore, it is important to have these cleaned up properly.
This can be frustrating work to handle after waiting for weeks or even months of reconstruction to be finished. But if you'd like a dependable company to handle the post construction cleanup, ServiceMaster EMT provides 24/7 services in Boulder City and Mesquite, NV. We train our staff to provide a superior cleaning after any level of construction.
Post Construction Cleanup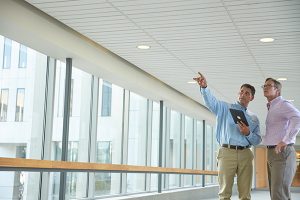 Having to reconstruct after a disaster is a stressful situation. Nothing ruins a return more than leftover debris and tarnish from the aftermath of building materials. Disasters such as pipe breakage and flooding may leave your property wet and muddy, resulting in tracks on your hard-surfaced floors. Sawdust from the lumber and hammers may leave fixtures with a layer of grime that is hard to clean.
That is why our staff at ServiceMaster EMT covers every detail of your home, leaving no debris behind. Another potential hazard is your ventilation systems. The dust may travel through the vents and buildup. Over time, this excess debris could cause your ventilation system to break down, leaving you with hundreds of dollars in repairs. However, our staff ensures your property receives a professional clean after any size of construction job.
We offer a variety of construction cleanup services including:
Paint overspray cleaning
Dusting air diffusers
Light fixture cleaning
Restroom fixtures cleaning
Spot cleaning for walls and indoor glass
Carpet treatments
Mopping for hard floorings
Construction projects are often messy, and the debris left behind can be difficult to clean. Ensuring that all tools and pieces are removed safely from the site is important to avoid severe accidents. Nails or screws left behind can injure animals or pets, and possible individuals, costing you time and money for recovery.
If you want peace of mind knowing that your home is safe and up to your standards, give us a call. We specifically develop custom cleanup plans around your concerns. We will also have a field supervisor assigned to your project, to ensure all concerns are addressed; therefore, they will ensure the timeframes have been met. We also provide estimates for insurance claims, allowing the process to run smoother for your convenience.
Cleaning up after a construction project can be stressful. But if you'd like a quality and stress-free experience, contact ServiceMaster EMT. Our skilled experts are here to handle your concerns and deliver a quality clean every time.
Free Estimate
You can reach us 24 hours a day at (702) 786-1999 for professional post construction cleaning services in the Boulder City and Mesquite, NV area.
Related Post Construction Cleanup Services
Professional Post Construction Cleanup in Las Vegas, NV
Post Construction Cleaning in Henderson, NV
---
Recent Reviews
Review by

Oscar Ruiz, Henderson, NV
Rating

"Fast service and friendly, setting our minds at ease while doing the work. They explained what they were going to do step by step."
---
Review by

Damian K., Corona, CA
Rating

"Great company that handles the job . But if you want it handled rite ask for Eric . He's a hard working son of a gun."
---
Review by

Debra Liu, Henderson , NV
Rating

"Fast response, friendly and professional."
---