It only takes a small amount of extra moisture within a building for mold to grow. Mold grows and spreads quickly which can cause not only structural damage but major health concerns. Respiratory infections and allergies are extremely common health issues associated with mold growth.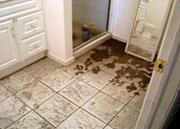 ServiceMaster EMT responds quickly to any building or homeowners' mold concerns in Boulder City and Mesquite, NV. We are confident in our ability to remove any type of mold growth and install the preventative measures needed to stop any returning mold growth.
Identifying Mold
Mold spores are everywhere and will grow easily under the right conditions. These spores will frequently grow under slight environmental changes like extra moisture, and require a food source, commonly wood or drywall. Unappealing fuzzy growths on walls and floors are the most well known signs of mold growth, but ServiceMaster EMT knows how to spot more subtle signs of growth in a building.
Mold Removal Boulder City and Mesquite, NV
For mold removal in Mesquite or Boulder City, NV, call ServiceMaster EMT at (702) 786-1999.
The presence of mold within a home or building can cause the following problems:
Mold creates unsightly living conditions
Mold produces a strong, musty odor.
Mold will eventually cause permanent damage to the surfaces it grows on.
Mold can cause health issues such as allergies or infections.
Mold Remediation
The best preventive measure for mold growth is controlling the humidity levels and keeping proper ventilation of rooms that easily collect moisture. However, when mold growth starts the smartest step to make is to call in professional mold remediation technicians like those at ServiceMaster EMT in Boulder City and Mesquite, NV. ServiceMaster EMT has top professionals with training and equipment to remove mold growth completely and repair the moisture source to prevent future mold growth. We also contain the mold growth to keep it within the affected area and we will repair or replace the affected surfaces.
Free Estimate
If you find mold growth in your home or business in Boulder City or Mesquite, NV, contact ServiceMaster EMT for our mold removal services. We are available 24/7 at (702) 786-1999 for more information about our mold remediation services.
---
Related Mold Removal Services:
Mold Remediation Henderson, NV
Mold Damage Cleanup Las Vegas and North Las Vegas, NV
Mold Removal Kingman, AZ
Mold Remediation Services Lake Havasu City, AZ
Mold Damage Restoration Bullhead City, AZ
Mold Removal Services Laughlin, NV
More Reviews