Hoarding is a common problem that often starts small, but grows into a huge mess over time. Without proper identification and cleaning, hoarding can become a danger to your loved ones and their homes. Identified as a psychological disorder, it is often caused from high anxiety. The affected individual develops a strong bond to common objects, making them hard to throw away.  This will cause clutter to accumulate that may make living difficult for the individual.
These could cause the individual to slip or fall, incurring injuries to that person or their families. The piles may also become a fire hazard, making the property a dangerous environment. But it does not stop here, bacteria or hidden mold may be growing out of sight, causing health problems to develop when untreated. Hoarding is a very tender subject, and can be hard to work with an individual who is emotionally attached.
That's why a professional and respectful company is needed, such as ServiceMaster EMT, to handle your loved ones' homes with care.
Hoarding Cleaning Services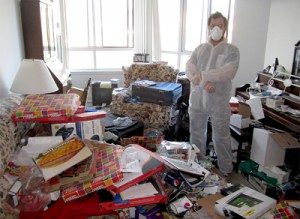 ServiceMaster EMT offers hoarding cleaning services in Las Vegas and North Las Vegas, NV to help those who are affected by hoarding. We believe in providing safety and comfort to those affected, which is why we train our staff to handle any type of situation returning the home to livable standards. Our technicians also create a personal cleaning plan to assess and eliminate any potential hazards. Finally, we make sure that your loved ones' health and wellbeing is a top priority during our services.
Hoarding can produce unexpected and unintended dangers around the home. This can put the individual at risk for health complications. This is why we use advanced equipment and personal protective equipment (PPE) to ensure the safety for everyone.  Additionally, we follow the rules and regulations within the EPA, OSHA, and the Department of Transportation.
Our hoarding cleanup services include the following procedures:
Decontamination: We provide exceptional sanitation and removal of any contaminates
Odor Removal: We offer a superior deodorization of your home, removing odors at their source and freshening the air in your home
Proper Disposal: We make sure to take care in handling all of the materials and disposing of them properly
Hoarding is a difficult burden to bear. Those affected often don't know they have it and may be embarrassed to admit it. Therefore, it is up to those they love and trust to help comfort them during this difficult transition into a clean home. We make sure to reach out to the individual and establish a trusting relationship before we perform any services. This allows us to aid the affected individual while assisting them in recovery.
Free Estimate
If you have a loved one who maybe struggling with hoarding in Las Vegas and North Las Vegas, NV, contact ServiceMaster EMT.  You can call us anytime at (702) 786-1999 for more information about our hoarding cleaning services.
Related Hoarding Cleanup Services
Professional Hoarding Cleanup Company in Henderson, NV
Hoarding Cleanup Services in Boulder City, NV and Mesquite, NV
---
Recent Reviews
Review by

Oscar Ruiz, Henderson, NV
Rating

"Fast service and friendly, setting our minds at ease while doing the work. They explained what they were going to do step by step."
---
Review by

Damian K., Corona, CA
Rating

"Great company that handles the job . But if you want it handled rite ask for Eric . He's a hard working son of a gun."
---
Review by

Debra Liu, Henderson , NV
Rating

"Fast response, friendly and professional."
---