A fire is always a threat to a home or building. After ensuring that everyone has been safely evacuated, it is important to get the restoration process started.  The soot from the smoke and corrosive byproducts from burnt synthetic materials will continue to settle long after the fire is extinguished. This can cause additional damage that can quickly become permanent.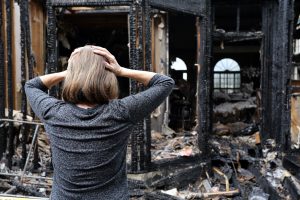 ServiceMaster EMT provides fire damage restoration services to help rebuild and restore homes and businesses in Kingman, AZ. We have the equipment and experience to effectively restore fire and smoke damage. We also respond quickly to prevent the damage from spreading and becoming permanent.
Damaging Effects of Fire and Smoke
Once the fire is extinguished, the threat to your safety may be over, however, the smoke and soot damage continues to spread.  Soot from the smoke and chemical emissions can spread well beyond the areas affected by the fire to cause corrosion and tarnishing. Our technicians will immediately secure your home or building with board up services to prevent further structural damage.
ServiceMaster EMT will also restore damage from the corrosive byproducts before it becomes permanent.  Our cleaning products and equipment are the best of the industry, allowing us to restore your home or building to its original condition.
If your personal belongings are heavily affected by the fire or smoke, our technicians at will clean and restore them with our pack-out services.  We will safely pack each of your damaged items and record them on an inventory list before taking them to our climate-controlled facility. Here we can effectively clean, restore, and deodorize your content and keep them stored safely until your home is restored.
Fire Restoration in Kingman, AZ
For fire damage restoration in Kingman, AZ, contact ServiceMaster EMT at (702) 786-1999.
Fire Damage Repair
Smoke is often the cause of the most damage in a fire because it can spread well beyond the flames to affect various surfaces and furnishings.  It can be absorbed in wood, drywall, paint, and other porous building materials. Some materials also produce a smoke residue when burned that can be corrosive.
ServiceMaster EMT will use the right chemical combinations and cleaning products to remove soot and residue from all household surfaces. The smoke damage restoration technicians will also remove any lingering odors left from the smoke.
Fire Restoration – What to Do
Within three days, soot and other corrosive byproducts will cause etching and tarnishing to the building materials. Be sure to call us right away for professional help.
If the temperature exceeds 60 degrees, air out the house as much as possible to remove any standing smoke odors.
Clean materials that include Formica, chrome, aluminum, and porcelain to prevent further damage.
Change the air filter on the furnace system immediately if it is currently using hot air.
Cover returns and supply registers with damp cheesecloth to trap any loose soot in the air.
Dispose of any open food containers
As long as the electricity remains off, remove anything from the refrigerator while leaving the door open.
Deliver any damaged clothing from the soot and smoke to the dry cleaner for the best restoration cleaning.
Fire Damage Restoration – What NOT to Do
Avoid touching anything with bare hands as their oil can further damage any upholstery, walls, and other woodwork.
Do not attempt to wash the walls as improper procedures could rub in the soot and cause further damage.
Do not try to restore any carpets or damaged furniture.
Do not use any electrical appliances until having them checked by the fire damage professionals.
Do not use any ceiling fixtures if any part of the ceiling is still wet from the hose.
If you experience a fire in your home or office in Kingman, AZ, do not hesitate to contact us immediately after the fire is extinguished for fire and smoke damage restoration services.  Any hesitation could result in widespread or permanent damage that could leave the furnishings and structural elements in your home unsalvageable.
Emergency Response
You can reach us 24 hours a day at (702) 786-1999 for fire damage emergencies in Kingman, AZ and the surrounding areas.
---
Related Fire Restoration Services:
Fire Damage Restoration Lake Havasu City, AZ
Fire Damage Cleanup Bullhead City, AZ
Fire and Smoke Damage Restoration Laughlin, NV
Fire Restoration Las Vegas, NV
Fire Damage Repair North Las Vegas, NV
Fire Damage Mitigation Boulder City, NV
Fire Damage Restoration Services Mesquite, NV
Fire Damage Repair Company Henderson, NV
July 10, 2020
Alfredo Pena
Las Vegas, NV
The service we received was very professional. They communicated at all times. They let us know when they were heading over what they were gonna do why they were doing and why it needed to be done and when they were done they explained everything that was done again. I was never left in doubt as to what was being done in my home. They were clean about the work,respectable and with the pandemic they kept their masks on at all times. Overall just a wonderful experience.
July 9, 2020
Seth Kaufman
Aliso Viejo, CA
Javier is the consummate professional. He works hard and takes special care of his assignments and the responsibilities that come with it. He is always accessible and provides accurate updates. Having to go through similar issues in 6 months, I'm glad to have Javier assigned both times. Hopefully it won't happen again, but if it does I feel confident that the job will get done the right way if Javier is my PM.
July 8, 2020
David Ayres
Las Vegas, NV
I have been very satisfied with the service and thoroughness of the personnel I have dealt with at a time when we needed help. They were guiding and professional in explaining the 'process' to get us through the needs of the developing "project fix". The timing was great to go from one step to the next. We dealt with Brandon with the initial field work and now with Tina at the stage where we need the coordination of the demo crew and scheduleing for remediation.
More Reviews