The heating and air conditioning for a home or building is provided by the air duct system, which is typically overlooked when it comes to maintenance. This system takes in the air from inside and outside of the building and circulates it throughout, which means that dirt and dust from the air can accumulate within the duct system. This makes the system less efficient and diminishes the air quality within your home or building.
ServiceMaster EMT provides homes and businesses in the Kingman, AZ area with professional air duct cleaning services. Our expert technicians will use our advanced equipment to clean the air duct system to improve its efficiency and the overall indoor air quality.
HVAC Cleaning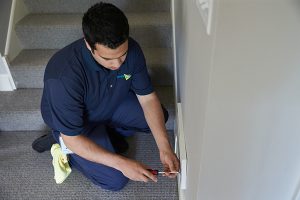 It is important to have a professional clean your air ducts every 2-5 years. The dirt and debris that enter the HVAC system gather within the air ducts and on the components, affecting their function and restricting airways.  As the debris increases over time, the system will work harder and cause higher energy bills and indoor air pollution if left uncleaned. The HVAC system is also more likely to experience a breakdown if the debris buildup causes it to work harder.
We will ensure that all built up dust and debris is removed from the air ducts and component parts of the HVAC system. Our air duct cleaning services will cover:
Air ducts
Air return and supply vents & registers
Diffusers and grilles
Cooling and heating coils
Drip pans
Fan housing and motor
Air handling unit housing
If your air ducts need to be cleaned and maintained, ServiceMaster EMT provides professional air duct cleaning services for the Kingman, AZ area. Our expert technicians will efficiently clean the air duct system to help improve the efficiency and overall air quality.
Get a Free Estimate
Call us at (702) 786-1999 for more information about our professional air duct cleaning services in Kingman, AZ.
Related Services:
Air Duct Cleaning in Las Vegas, NV
Duct Cleaning in Henderson, NV
Air Duct Cleaning Services in Bullhead City, AZ
More Reviews