Fires not only result in significant property damage, but they also threaten your safety and well-being as well as others'. Because of this, fires are among the most dangerous disasters. If a fire breaks out in your residential or commercial property, then you first must evacuate the building and ensure everyone's safety. Then call 911 to have the fire extinguished. Once the flames have been put out, you need to focus on the building's restoration, because the secondary damage caused by soot and smoke continues after the fire is out and may become permanent.
Helping fire- and smoke-damaged homes and buildings in Laughlin, NV, ServiceMaster EMT provides fire and smoke damage restoration services. We will limit the damage to prevent it from worsening and, knowing how important it is you return to your building, will work in an efficient manner to restore your property.
Fire Damage Repair
ServiceMaster EMT has technicians who are not only trained to provide homes and businesses with effective fire and smoke damage restoration services, but who are also insured and licensed to do so. To conduct our services, we use only the best available cleaning products and equipment that the industry offers, ensuring quality work is done to your property. Furthermore, we will give you updates on the restoration progress.
Fire Damage Restoration Laughlin, NV
For fire damage restoration in Laughlin, NV, contact ServiceMaster EMT at (702) 786-1999.
The following are included within our complete fire and smoke damage restoration services:
Fire and smoke damage cleanup
Soot cleanup and removal
Contents and building cleanup
Restoration dry cleaning
Data and document recovery
Electronic equipment restoration
Call (702) 786-1999 to reach ServiceMaster EMT for the professional fire damage cleanup services we offer in Laughlin, NV, and the neighboring areas.
Reacting to Fire Damage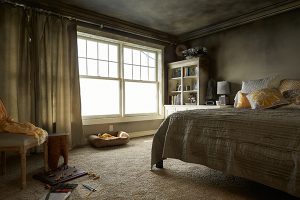 Even after a fire has been extinguished, it will continue to cause damage through smoke, soot, and other corrosive byproducts, making it one of the most destructive natural disasters to damage homes and buildings. Corrosive byproducts will harm areas of your property that were unaffected by the flames, causing etching and tarnishing among other damage.
This kind of damage will become permanent without timely restoration, which is where ServiceMaster EMT can help. Our technicians use advanced chemical cleaners to remove etching and tarnishing from various household surfaces including carpeting, upholstery, chrome, tile, brass, marble, aluminum, porcelain, and more.
To avoid permanent damage to your property and severe damage to your building's structure, you need to take action right away.
Fire Damage Repair – What You Can Do
Call ServiceMaster EMT immediately so that our technicians can begin the fire damage restoration process promptly.
If it is warmer than 60 degrees outside, then you should open your property's doors and windows to air it out.
To prevent permanent damage from soot, wipe down surfaces made of porcelain, chrome, aluminum, and/or Formica.
If you have a furnace that uses forced hot air, then you need to change the air filter.
Use damp cheesecloths to filter soot from the air by covering up registers and return and supply vents.
Any open food containers should be disposed of.
Your entire refrigerator needs to be cleaned if the power is out.
Gather your smoke-damaged clothing for us to clean them with our restoration dry cleaning services.
Fire Damage Restoration – Steps to Avoid
Do not come into contact with any surfaces damaged by soot or else the oil from your skin may make the damage even worse.
Do not attempt to clean your walls damaged by soot residue, because cleaning it incorrectly only worsens the damage.
Do not try cleaning your carpeting or upholstery.
Do not use electrical appliances that have yet to go through a safety inspection.
Do not use any ceiling fixtures if the ceiling is wet.
Smoke Odor
Although property damage is usually the main concern in the aftermath of a fire, the lingering smoke odor is concerning, too, because it is tough to remove. At ServiceMaster EMT, we will also conduct smoke odor removal as part of our fire damage restoration services. We do this to ensure you return to a restored home or business that is free of smoke odor. Using state-of-the-art deodorization technology, we will completely eliminate smoke odors from furnishings, building materials, and air spaces. Among the deodorization methods our technicians utilize are hydroxyl technology, ozone technology, Nano carbon technology, and thermal fogging.
In the event that a fire occurs in your home or business, the first thing you should do is evacuate the property and ensure everyone's safety. Once everyone is safe and the fire is out, you need to get restoration help immediately to prevent permanent damage. With our fire and smoke damage restoration services, ServiceMaster EMT can assist homes and businesses in Laughlin, NV, in the aftermath of a fire.
Emergency Response
ServiceMaster EMT is available on a 24/7 basis at (702) 786-1999 for the emergency fire and smoke damage restoration services we provide in Laughlin, NV.
---
Related Fire Damage Restoration Services:
Fire Damage Cleanup Henderson, NV
Fire Damage Restoration Boulder City, NV
Fire Damage Repair Mesquite, NV
Fire Damage Restoration Contractors Las Vegas, NV
Fire Damage Cleanup Services North Las Vegas, NV
Fire Damage Cleanup Contractors Lake Havasu City, AZ
Smoke Damage Restoration Bullhead City, AZ
Smoke Damage Repair Kingman, AZ
More Reviews