(702) 786-1999
Fires, floods, rain, and other severe storms are known to cause property damage, but property damage isn't always caused by natural events. Sometimes, property damage can be the result of an unfortunate event: vandalism. Vandalism tends to be random, can be done in numerous ways, and results in various types of damage, which can make it difficult and frustrating to handle.
Serving Laughlin, NV, ServiceMaster EMT helps homes and businesses that have suffered damage from vandalism with vandalism and property restoration. Our staff is well trained and has the proper knowledge to effectively conduct disaster restoration services for homes and businesses that have sustained damage by vandalism.
Property Restoation Laughlin, NV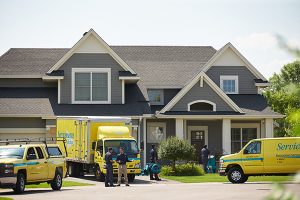 Dealing with vandalism-caused property damage is tough, because it is the result of another individual's harmful actions. However, the property damage is still something that must be addressed right away. Our professional technicians will use their training, expertise, and advanced cleaning equipment to help you get your home or business and its structural elements and furnishings repaired and cleaned.
In the event that your property is damaged as a result of vandalism, contact ServiceMaster EMT and do the following tasks to prevent the damage from worsening:
Wash off any residue that may be on the outside of your property.
Scrape away debris from food left behind on your carpets and walls.
Get a broom or vacuum cleaner to pick up any broken glass.
Document the damage done to your property by taking pictures, recording videos, and making notes of it.
Avoid doing the following if you're dealing with damage done by vandalism:
Do not try cleaning paint and other chemical stains on your own.
Do not try using any damaged electrical appliances.
Do not throw out damaged goods, as they may end up assisting with repairs.
Do not try cleaning your upholstery, furniture, and other fabrics if you do not have professional assistance.
If your residential or commercial property has been vandalized and, as a result, damaged, get in touch with ServiceMaster EMT. We provide Laughlin, NV, with vandalism and property damage restoration services that include cleaning, repairs, and restoration of your home or business.
Available 24/7
For vandalism and property damage restoration services from ServiceMaster EMT, call (702) 786-1999 at any time of the day.
---
Related Property Restoration  Services:
Property Damage Restoration North Las Vegas, NV
Property Restoration Services Henderson, NV
Property Damage Restoration Company Las Vegas, NV
Property Restoration and Vandalism Cleanup Bullhead City, AZ
Vandalism Cleanup and Property Restoration Lake Havasu City, AZ
Vandalism Cleanup Services Kingman, AZ
April 4, 2020
Helen Gilchrist
San Clemente, CA
More Reviews