Property damage is most often caused by water; however, every case of water damage differs from one another. Sometimes, water damage will be the result of a broken appliance or a leaky pipe. Other times, the water damage will be the result of a sewage backup or flooding. If your residential or commercial property has suffered a massive amount of flooding, then it's likely that the water involved contains sewage.
To protect your health and well-being, you must stay away from any sewage-contaminated water. Additionally, get in touch with a professional restoration service right away so that your property can be safely and properly cleaned. Serving Laughlin, NV, ServiceMaster EMT helps homes and businesses that have suffered severe damage with sewage cleanup. With our advanced equipment, our staff will be able to not only thoroughly dry damaged areas of your property, but also clean and disinfect the damaged areas. This ensures that your home or business is restored to its original condition and is safe to return to.
Property Damage from Sewage Water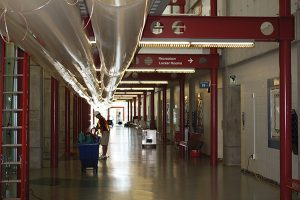 Sewage often becomes mixed with water from natural flooding. Because of this, the water becomes contaminated and may eventually make its way into your home or business. When this occurs, the water causes damage, but the sewage that has contaminated the water causes problems of its own. Sewage is harmful because the waste materials and toxins that it contains can cause severe health problems, making it imperative that you reach out to our professionals to extract this water from your property.
We, at ServiceMaster EMT, know the dangers of sewage water. This is why the staff we employ works in an efficient manner to remove the contaminated water from your home or business. Through the use of commercial extraction equipment, we will extract the sewage water from your property. Additionally, we use advanced drying methods to then dry out the space. Following sewage removal, we proceed with the restoration process by cleaning the damaged areas of bacteria and toxins.
Our sewage cleaning services include the following:
Sewage Extraction: We use water extraction equipment to extract standing water that has been contaminated by sewage. We also remove any moisture in damaged materials.
Cleaning and Disinfection: We remove harmful waste materials and microorganisms from affected areas by cleaning and sanitizing the property.
Deodorization: We use powerful hydroxyl technology to get rid of any unpleasant odors that were produced by the sewage water.
Drying and Dehumidification: Water restoration is performed by extracting excess moisture from affected furnishings and structural materials by using advanced drying equipment.
Dealing with flooding that involves sewage can be stressful, but ServiceMaster EMT is available to help with the sewage backup cleaning services that we provide. Just make sure that you stay away from the water.
Emergency Response
ServiceMaster EMT can be reached at (702) 786-1999 at all hours of the day to provide sewage cleanup services in Laughlin, NV.
---
Related Sewage Cleanup Services:
Sewage Cleanup Bullhead City, AZ
Sewage Backup Cleaning Kingman, AZ
Sewage Cleaning Company North Las Vegas, NV and Las Vegas, NV
Sewage Cleanup Contractors Henderson, NV
Sewage Contamination Cleaning Services Boulder City, NV
Sewage Contamination Cleanup Company Mesquite, NV
Sewage Cleaning Services Lake Havasu City, NV
More Reviews