Tile and grout surfaces are found in every home because their durability and moisture resistance makes them ideal for kitchen and bathrooms. These surfaces are also a great option because their design versatility makes it possible to find a color or style of tile that works with any kitchen or bathroom design. However, tile and grout surfaces are not invincible as the finish can fade with time and allow dirt and moisture to accumulate on the tile surfaces and grout lines. Dirty or faded tiles can have a drastic effect on the overall appearance of your kitchen or bathroom. RestorationMaster provides professional tile and grout cleaning services to fully clean tile and grout surfaces for homes in The Islands and Mt. Pleasant, SC. We will deep clean your tile and grout surfaces with our advanced equipment to help revive its original color and appearance.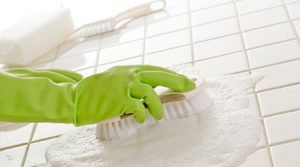 The tile and grout in a kitchen or bathroom is usually central to the overall design as it can be used for flooring, walls, counters, and backsplashes. When tile surfaces and grout lines accumulate dirt, moisture, and other debris that can affect their look, it affects the appearance of the entire space. Sweeping and mopping cannot remove deeply embedded debris or moisture, it takes specialized cleaners and equipment. RestorationMaster uses truck mounted, high-pressure cleaning equipment that can effectively clean the surface of the tile and remove mildew and debris from the grout lines. Our equipment and cleaning products are safe for any type of tile including porcelain and ceramic.
You can expect the following from our tile and grout cleaning services:
Thorough assessment of tile and grout surfaces to create an effective cleaning plan
Pre-treatment of any spots or stains
Complete cleaning of all tile surfaces with our specialized cleaning equipment and products
Corner and baseboard cleaning
Drying of the tile and grout surfaces
Keeping your tile and grout surfaces clean with sweeping and mopping helps but will not prevent the buildup and fading caused by accumulated dirt and moisture. If the tile surfaces start to fade in your home in The Islands or Mt. Pleasant, SC, contact RestorationMaster to revive your tile with our tile and grout cleaning services. We are available at (888) 915-8868 to provide more information or to schedule an appointment.