888-915-8868
Carpets are the fastest way to change the look of a room, for good or for bad. New carpeting can refresh a tired room, but a dirty, stained carpet will make even high end furniture look shabby (and not shabby chic!). RestorationMaster provides professional carpet cleaning services to clients in the Islands and Mount Pleasant, SC. Our advanced cleaning products and equipment ensure that your carpets will look like they were just installed. We can remove stains, dirt, and odors to extend the life of your investment.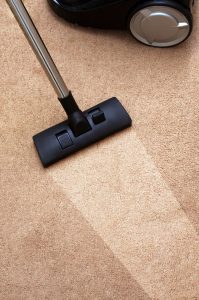 Carpets take a great deal of abuse every day from foot traffic, pets, spills, and materials tracked in on the bottoms of shoes. This builds up over time, which not only makes the carpet look dirty, but wears down the individual fibers and shortens their lifespan. Regularly scheduled cleanings help keep them looking their best, and RestorationMaster will work with you to determine a cleaning schedule that's right for your lifestyle. A retired couple who travels frequently won't need cleanings as frequently as a couple with large dogs and/or children.
Commercially available steam cleaners use products that leave a residue and it's easy to use too much water, which makes it harder to get the carpet completely dry before mold has a chance to set in. RestorationMaster uses a low water method that requires little hot water and cleaner. The solution is applied and immediately extracted, taking dirt with it. Our professionals place pads under furniture legs to protect them during the cleaning process.
RestorationMaster 's complete carpet cleaning service includes
Inspection of the carpet to determine the best cleaning method
Pre-treatment of stains
Thorough cleaning, using the best products available in the industry
Post treatment of any remaining stains
Grooming of fibers to ensure even drying and an attractive appearance
Walk-through with the client to make sure everything is satisfactory before we leave
Regular professional carpet cleanings will protect your investment, extent its life, maintain the appearance of your home, and ensure the health of your family by making sure irritants are kept out of the air. In a commercial setting, clean carpets tell customers you're professional and make a good first impression. Call RestorationMaster at (888) 915-8868 for residential and commercial carpet cleaning in the Islands and Mount Pleasant, SC.