888-915-8868
Hoarding is a complex issue that in recent years has come to be understood as a mental disorder involving anxiety. This anxiety is the underlying cause of typical hoarding behaviors as it prevents those affected from getting rid of anything in their homes. As the hoard of items continues to build, the home becomes dangerously cluttered and dirty which can threaten the health and safety of those within. RestorationMaster provides hoarding cleaning services in The Islands and Mt. Pleasant, SC to remove hoarded items as well as clean and sanitize the home. Our technicians have the right equipment to safely and effectively clean the homes of hoarders and restore them to a safe living condition.
Trusted Hoarding Cleanup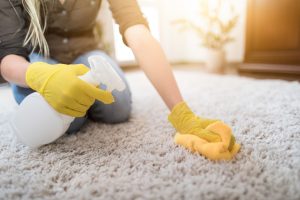 Hoarding cleaning is not a typical cleaning service because of the condition of the affected individual. Most hoarders do not reach out for cleaning services on their own out of embarrassment and typically need a trusted friend or family member to intervene and start the process. We understand that cleaning out the home can be overwhelming for the hoarder which is why we work to establish a personal relationship with them built on trust and respect. The affected individual is also an important part of the cleaning process as they make the final decision on what to do with each of the hoarded items in the home. This helps ease some of the stress of the situation by letting the individual maintain an element of control.
We use the best cleaning equipment and products of the industry to thoroughly and effectively clean and disinfect the home. We are also properly equipped to clean up potentially dangerous biohazard materials such as mold, bacteria, bodily fluids, and even decomposing animals. After all of the unwanted hoarded items have been removed, we will help rearrange the home and make sure it is cleaned and sanitized for safer living conditions. All of our work is done within the rules and regulations of the EPA, OSHA, and the Department of Transportation.
Our hoarding cleaning services include the following:
Decontamination: After removing the hoarded items, we thoroughly clean and disinfect the entire home.
Odor Removal: We can eliminate any strong odors with our powerful deodorizers.
Proper Disposal: Each hoarded item is either thrown away, donated, recycled, or kept and any biohazard materials are taken to a medical waste facility that is licensed to dispose of them safely.
If you know someone who has had issues with hoarding, it is important to help them understand the importance of cleaning out their home. We are available to help hoarders clean out their homes in The Islands and Mt. Pleasant, SC and restore them to safe and sanitary living conditions. You can reach us 24 hours a day at (888) 915-8868 to learn more about our hoarding cleaning services.