888-915-8868
No one wants to witness a violent crime or accident involving a serious injury or death, or discover such as grisly scene on their property. Unfortunately, these scenarios happen and if it happens on your property, you are responsible for the restoration. The police should be called first, followed by a licensed restoration professional. RestorationMaster provides biohazard and trauma scene cleaning services for The Islands and Mt. Pleasant, SC to remove biohazard materials from trauma and crime scenes and get the area restored to a safe condition. Our technicians will effectively clean and disinfect the scene using advanced equipment and we make sure to approach those who are grieving with compassion and respect.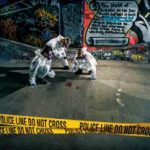 The scene of a violent crime or accident is very dangerous because of the presence of biohazard materials such as blood and other bodily fluids. These materials may contain viruses, bacteria, and other toxins that can cause a variety of diseases and infections. This is why it is extremely important to have these materials cleaned up by certified professionals. We use only the best cleaning products and equipment to completely remove biohazard materials and fully sanitize the scene to eliminate the risk of infection or disease. We will ensure that all traces of the biohazard materials are removed and we follow OSHA and state health regulations as we work.
When it comes to trauma scene cleaning, there is an element to this job that we take very seriously as those who have experienced a loss may be having a difficult time. We make sure to treat anyone who is grieving with a sense of compassion and respect and we are committed to protecting your privacy by using unmarked vehicles and working as discreetly as possible. We are also trained to cooperate with law enforcement officials who are conducting a crime scene investigation. We will completely remove any sign of the tragedy so you can focus on your recovery.
The biohazard and trauma scene cleaning services we provide consist of the following:
Respectful approach by our technicians
Complete removal of all biohazard materials followed by cleaning and sanitization of the entire area
Proper disposal of biohazard materials at a licensed medical waste facility
If a violent crime or accident takes place on your property, you must avoid making contact with the scene and call the right professionals as soon as possible. The technicians of RestorationMaster have the training and equipment to safely clean up biohazard materials in The Islands and Mt. Pleasant, SC. You can reach us 24 hours a day at (888) 915-8868 for emergency response.