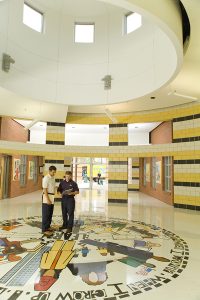 Let ServiceMaster Fire and Water Restoration in Highlands Ranch, CO take one more cleaning job off your hands (and knees), with a powerful, yet safe and gentle, effective cleaning process. ServiceMaster Fire and Water Restoration uses a high pressure hot water rinse with an enclosed vacuum system. ServiceMaster Fire and Water Restoration also can apply a grout sealer after the clean. This extra layer of protection seals the grout, making it resistant to spills and stains, keeping the grout looking clean. They can schedule a free in-home estimate or to schedule a convenient cleaning appointment to fit your busy schedule, including Saturdays. Serving the entire Denver Metro area, Colorado.
Call ServiceMaster Fire and Water Restoration at (303) 800-3404 or use the form on the right to request a quote for professional tile and grout cleaning services in Highlands Ranch, Colorado area.
---
Recent Reviews
---
Review by Tjty James
Disaster Restoration
Rating

"Cassie and her crews were incredible. She truly made me feel like the patient who finally meets the doctor who can cure his or her ailment. She was prompt, knowledgeable, friendly and professional. Servicemaster is very fortunate to have such a wonderful employee."
---
Review by Courtney Clark
Disaster Restoration
Rating

"Super professional and on time. Recommend them to anyone."
---
Review by Joseph Steffens
Disaster Restoration
Rating

"Was moving out of my home and called ServiceMaster to clean our carpets. They did an amazing job and their technician was very detailed and a true expert! Would highly recommend this company."
---
See All Reviews