Residential Carpet Cleaning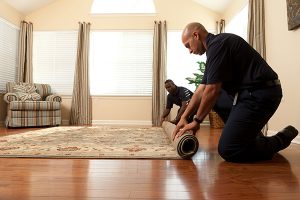 ServiceMaster Fire and Water Restoration in Highlands Ranch CO will come out to your home, at no charge, and give you an in home estimate on your carpet cleaning needs. They can schedule a convenient cleaning appointment to fit your busy schedule, including Saturdays. When a courteous and professionally trained , uniformed ServiceMaster Fire and Water Restoration technician arrives at your home they perform a pre-inspection and obtain room measurements to calculate the final price before any work begins. Our goal is to provide you with the best possible service. Serving the entire Denver Metro area, Colorado.
Carpet Cleaning Specifications
ServiceMaster Fire and Water Restoration has developed cleaning procedures to correctly clean your carpets. They begin by pre-spraying the carpet to accelerate soil release. Then the carpet is rinse-extracted using high performance truck-mounted equipment. The rinse-extraction also uses a specially formulated pH-balancing fiber rinse that removes carpet cleaning solution residue. All that is left behind is cleaner, softer carpet. The carpet pre-spray takes care of the majority of spots, however, some spots require special treatment. All ServiceMaster Fire and Water Restoration Technicians are trained and equipped to deal with specialty spots. When cleaning is completed, technicians perform a final inspection and groom the carpet to set the pile for efficient drying and uniform appearance.
Call ServiceMaster Fire and Water Restoration at(303) 800-3404or use the form on the right to request a quote for professional carpet cleaning services in Highlands Ranch, Colorado area.
---
Recent Reviews
---
Review by Tjty James
Disaster Restoration
Rating

"Cassie and her crews were incredible. She truly made me feel like the patient who finally meets the doctor who can cure his or her ailment. She was prompt, knowledgeable, friendly and professional. Servicemaster is very fortunate to have such a wonderful employee."
---
Review by Courtney Clark
Disaster Restoration
Rating

"Super professional and on time. Recommend them to anyone."
---
Review by Joseph Steffens
Disaster Restoration
Rating

"Was moving out of my home and called ServiceMaster to clean our carpets. They did an amazing job and their technician was very detailed and a true expert! Would highly recommend this company."
---
See All Reviews