Green Planet Restoration
After your home or building has been restored following a disaster, one of the most frustrating discoveries you can make is a foul lingering odor.  Several types of disasters such as fire damage, water damage, and mold can cause strong odors in a home or building, and it takes professional services to eliminate the odor from the home effectively.  Green Planet Restoration provides professional deodorization services in Glendale, CA to eliminate any lingering odors left behind from a disaster.  The deodorization methods that we use, including ozone technology, thermal fogging, Nano carbon technology, and hydroxyl technology, are among the best in the industry, and they are effective for removing odors from the structures, furnishings, and air spaces from your home.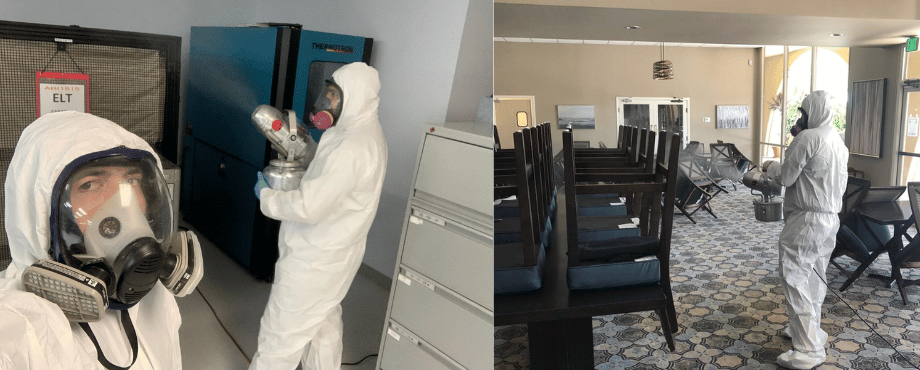 Our technicians are trained and equipped to eliminate a variety of odors from different sources including:
Fire damage and Smoke
Dead Animals
Pets
Undetected Death Scenes
The deodorization services that we provide include several steps that are meant to eliminate the odor and prevent it from returning.
Our deodorization process includes these steps:
Removal of the odor source
Treatment of affected furnishings and structures
Deodorization of air spaces
Air washing
Sealing of porous services
Documentation of the deodorization process
Our multi-step deodorization process is effective for removing these types of odors:
Fire damage and Smoke Odor: We can remove odors left from smoke and fire damage with our cleaning products.
Water Damage Odor: Mold and mildew can result from extensive water damage and leave a musty smell in your home. We can eliminate this musty odor.
Biological-Based Odors: Our cleaning products are strong enough to eliminate biological-based odors from sewage, bodily fluids, or dead animals.
Contact Green Planet Restoration for 24/7 Deodorization Services
If there is still a foul odor lingering around your home or office after a disaster, contact Green Planet Restoration for deodorization services. We can effectively remove odors caused by various sources from the air spaces, structural elements, and furnishings of your home or building in Glendale, CA.  You can call us 24 hours a day at (626) 415-3677 for a free estimate for our deodorization services.
---
Recent Reviews
Review by Marco H.
Disaster Restoration
Rating

"The team is awesome great response also working with my insurance to make sure everything is covered they go bat for you I have used them a few times in the past excellent company"
---
Review by David S.
Disaster Restoration
Rating

"Dan is one of the easiest and most professional technicians I have ever worked with. He made the entire process throughout my claim easier than I could have hoped for. Friendly, reliable, and super professional. Can not recommend this company any more."
---
Review by Eric Rio
Disaster Restoration
Rating

"Great company. They got the job done quickly and we didn't run into any problems. They have years of experience and you can definitely see that."