RestorationMaster
Se habla Español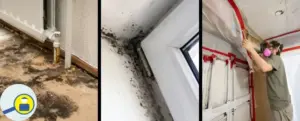 Visible mold growth is one of the last things that a home or business owner wants to see in their building, as mold can cause property damage, musty odors, and health problems to those that are exposed to the spores. Mold can form just about anywhere if there is a moisture source and a food source including wood or drywall surfaces for it to attach itself. Once mold starts to grow, it will continue to spread through the building, which makes it important to take action before the damage becomes more extensive.  RestorationMaster provides mold removal and remediation services in Glendale, CA to remove mold growth from homes and buildings. We can repair the damage caused by mold growth and take measures to ensure that it does not return.
RestorationMaster Mold Remediation and Removal Process
Our technicians at RestorationMaster have the training and experience to remove mold from homes and commercial buildings, and we will also repair the moisture source that caused mold growth in the first place. We work with mold testing facilities that are nationally recognized to provide in-depth inspections, lab analysis, and plans for mold removal and remediation, and we can also help coordinate claims with your insurance company.
Our mold removal and remediation services include the following:
Assessment of the scope of the mold growth and the damage
Report the assessment to your insurance company
Isolation of the affected areas
Preparation of a mold removal plan based on the testing and type of mold
Removal of the mold growth and either repair or replacement of the damaged surfaces
Watch Video for more information on Mold Removal & Remediation Services
Commercial Mold Remediation and Removal for Glendale, CA
Homes are not the only buildings that can experience mold growth; offices and commercial buildings can also have mold growth, which can be damaging to the property and increase the risk of health problems for those working in the building. We provide mold removal and remediation services in commercial settings, as well as homes, using the same testing methods and procedures. We understand that serious mold growth can interrupt the daily activities of your business, and we will work quickly and efficiently to minimize this interruption.
Contact Us for Mold Removal and Remediation Services in Glendale, CA
If there is mold growing in your home or building in Glendale, CA, do not hesitate to contact RestorationMaster for mold removal and remediation services. We provide in-depth testing and mold remediation services to completely remove mold growth, and we also provide free estimates for this service. Our phone lines are open 24 hours a day at (626) 415-3677 to respond to your mold removal and remediation needs.
---
Nearby Mold Remediation Service Areas:
Mold Remediation Professional in Alhambra, CA