Mold is a living organism that feeds on organic materials and can quickly take over your property. It can wreak havoc on the structural elements of your building and cause significant health complications if left unattended. At RestorationMaster, we work with homeowners and business owners in Alhambra, CA to treat mold with our professional remediation and removal services.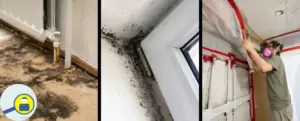 The Problems with Mold Growth
Mold is a very dangerous substance that can be extremely harmful to your health and the possessions within your home. The most common molds found indoors are able to cause a variety of symptoms, including fatigue, respiratory issues, headaches, and dizziness. Mold also has the potential to damage property inside of a home by eating away at the materials. If you have found some form of mold growth in your home, it is important to hire mold removal services as soon as possible. RestorationMaster serves customers all throughout Alhambra to resolve their mold damage issues.
When severe mold develops, most of the area will be unsafe to inhabit. Those who live and work in these spaces are at serious risk of experiencing adverse health effects, including respiratory infections and allergic reactions like runny noses and itchy eyes. With multiple strains and environmental factors to take into account, our team is on hand to assess the situation and determine if you may require professional help with cleanup or removal.
Watch Vido for more information on Mold Exposure and Mold Remediation
Our Mold Removal Process
Here at RestorationMaster, we offer mold removal and remediation services with some of the most experienced technicians in the industry. Our expertise, paired with professional-grade cleaning equipment and solutions, and our RestorationMaster approach means that mold does not stand a chance. We will locate all traces of mold on your property, contain it while we develop an optimal removal plan, implement this plan, and then clean and restore affected areas.
The RestorationMaster mold remediation process consists of:
The identification of all mold on your property
Submittal of these findings to your insurance provider
Containment of mold in affected areas so that it does not spread as we work
Development and implementation of a strategic mold removal plan
Restoration and sanitation of affected areas and belongings
Contact us for Mold Remediation and Removal Services in Alhambra, CA
Mold growth tends to be a tricky, yet unassuming beast. At RestorationMaster, we address mold issues with our mold removal and remediation services. If you live in Alhambra and are in need of mold removal, simply contact our representatives at (626) 415-3677. We are available 24 hours a day and look forward to working with you soon.
---
Related Mold Remediation Services:
Mold Remediation Expert in Glendale, CA