ServiceMaster by T. A. Russell
(626) 386-8834
Some property owners consider mold a smelly, unattractive nuisance; however, it can also do significant harm to your property and health if left unattended. It has the potential to feed on structural elements of your building, and can trigger significant health complications in those that are exposed to it. It is also notorious for spreading rapidly once it takes hold in one area. If you find mold growing on your property, we encourage you to contact us for our complete mold remediation and removal services. At ServiceMaster by T.A. Russell, we work with homeowners and business owners in L.A. County, CA.
The Problems with Mold Growth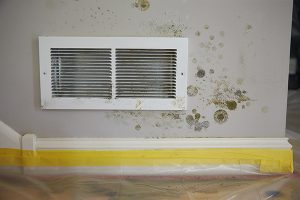 As we stated above, mold has the potential to damage your property, belongings, and health. It can spread rather rapidly, as well. Many of these problems occur so easily because all mold needs in order to grow and spread is an organic food source and excess moisture. Cellulose is a naturally occurring source of food for mold found within many common structural elements of homes and buildings. This means that the mold can feed off of the building materials of your home, which can lead to a number of safety risks. The mold will also release its spores to colonize different areas. When this occurs, other materials and belongings are at risk of discoloration, deterioration, and more.
Regarding the health of those regularly exposed to mold, there are several complications that are common. Allergic reactions are generally found to be most abundant, as itchy eyes, runny noses, and similar side effects are apparent in many individuals. Those with asthma are at a greater risk of experiencing an asthma attack when exposed to mold. In other cases, individuals can develop respiratory infections. While we cannot address these medical issues, we can eliminate the cause before they occur or worsen.
Mold Damage Remediation and Removal in Los Angeles County, CA –
Watch Our ServiceMaster Video:
For mold damage remediation and removal services in Los Angeles County, CA, call ServiceMaster by T.A. Russell today at (626) 386-8834.
Our Mold Removal Process
Here at ServiceMaster by T.A. Russell, we offer mold removal and remediation services with some of the most experienced technicians in the industry. Our expertise, paired with professional-grade cleaning equipment and solutions, and our ServiceMaster approach means that mold does not stand a chance. We will locate all traces of mold on your property, contain it while we develop an optimal removal plan, implement this plan, and then clean and restore affected areas.
The ServiceMaster mold remediation process consists of:
The identification of all mold on your property
Submittal of these findings to your insurance provider
Containment of mold in affected areas so that it does not spread as we work
Development and implementation of a strategic mold removal plan
Restoration and sanitation of affected areas and belongings
Contact us for Mold Remediation and Removal in Los Angeles County, CA
Mold growth tends to be a tricky, yet unassuming beast. At ServiceMaster by T.A. Russell, we address mold issues with our mold removal and remediation services. If you live in L.A. County and are in need of mold removal, simply contact our representatives at (626) 386-8834. We are available 24 hours a day, and look forward to working with you soon.
ServiceMaster by T.A. Russell provides these services for West Covina, Arcadia, Glendora, Pomona, Burbank, San Fernando, Alhambra, Monrovia, Diamond Bar, San Dimas, and Claremont in L.A. County, CA.
---
Related Mold Removal and Remediation Services
Mold Remediation and Removal Services – Glendale, CA
---
Recent Reviews
Review by L.J.
Rating

"Your movers were great!!! I glad to see women in those positions."
---
Review by P.D.
Rating

"ServiceMaster was very professional and thorough with my loss and lived up to their name, ServiceMaster CLEAN."
---
Review by P.M.M.
Rating

"Came immediately and tailored the equipment to our needs."
---
See All Reviews