For those in L.A. County, water damage within homes and businesses can be a tricky problem. This is because even seemingly small amounts of water can actually be the result of a much larger issue. This is one reason why it is critical you contact ServiceMaster by T.A. Russell if you notice any levels of excess water on your property. Through our water damage restoration services, we will remove all water and moisture from your property, and restore any damaged structural elements and belongings. In emergency situations, we can be on-site within 2 to 4 hours of your call.
Our Water Damage Restoration Process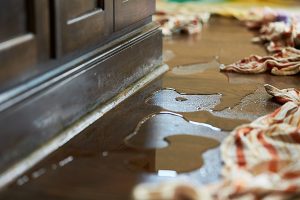 At ServiceMaster by T.A. Russell, our technicians are trained and certified to provide exemplary water damage restoration services. This is true for both residential and commercial settings, and applies to damage caused by burst pipes, flooding, sewage backups, leaks, and more. With our advanced cleaning equipment and methodologies, we will restore your property and belongings to their original condition. We handle water damage restoration projects with a 3-phase approach:
Phase 1 – Emergency Response: We are available 24 hours a day, and can respond to emergencies within 2 to 4 hours of your call to assess the damage and begin our work.
Phase 2 – Water Removal and Drying: By utilizing our professional-grade water extraction and drying equipment, we will remove all excess moisture from affected areas.
Phase 3 – Reinstallation and Cleaning: If any structural elements or furnishings needed to be moved or repaired, we will reinstall them. We will then provide sanitization services to clean affected areas and items. 
Water Damage in Commercial Settings
Commercial water damage often occurs on a larger scale than water damage within homes. Rest assured, we have the technicians, equipment, and procedures necessary to address any level of water damage within commercial settings. We will also clean and restore affected areas, important equipment, and essentially anything else.
The Dos and Don'ts Following Water Damage
When water penetrates your property, there are a variety of things that you can do to improve or worsen the situation. We have compiled several tips for you to consider. The following are things that you should do to be proactive:
Contact ServiceMaster by T.A. Russell as quickly as possible to limit the extent of the damage
Relocate loose area rugs and floor coverings
Blot dry or mop excess water
Prop up wet cushions
Hang drapes up and away from standing water
Keep books packed tightly together
Dry off furniture and place aluminum foil under their legs
Put pictures, paintings, and other delicate objects somewhere dry
Open windows, doors, and drawers to increase air circulation
Regarding things that you should not do following water damage, please refer to the following:
Do not walk into standing water
Do not remove permanent carpeting or flooring
Do not use a standard vacuum to suck up water
Do not use electrical appliances or light fixtures until they have been professionally inspected
Do not attempt to remove mold
ServiceMaster by T.A. Russell has been a proud provider of water damage restoration services in L.A. County for a number of years. If you are in need of these offerings, please do not hesitate to contact us at (626) 386-8834. Our representatives are available 24 hours a day, and can have a team of technicians on your property within 2 to 4 hours of your call.
ServiceMaster by T.A. Russell proudly serves West Covina, Arcadia, Glendora, Pomona, Burbank, San Fernando, Alhambra, Monrovia, Diamond Bar, San Dimas, and Claremont in L.A. County, CA.
---
Recent Reviews
Review by

L.J.
Rating

"Your movers were great!!! I glad to see women in those positions."
---
Review by

P.D.
Rating

"ServiceMaster was very professional and thorough with my loss and lived up to their name, ServiceMaster CLEAN."
---
Review by

P.M.M.
Rating

"Came immediately and tailored the equipment to our needs."
---