ServiceMaster by T.A. Russell
Fires and floods can be particularly damaging to the contents of your building when they occur, but so too can mold growth, pest infestations, severe accidents, and similar scenarios. While there is an abundance of things that can go wrong to your property in L.A. County, we address them all at ServiceMaster by T.A. Russell with our content cleaning and pack-out services. With these services, we offer the unique ability to repair the vulnerable items that are damaged within your building. Depending on the condition of your property, we can do this on-site or at one of our facilities.
Residential and Commercial Content Cleaning
There are many valuable items within homes that can be damaged following a disaster. Some hold tremendous sentimental value, while others cost quite a bit of money. Family photos, electronics, jewelry, books, and furniture are simply several such belongings that can be permanently damaged if they are not cared for quickly.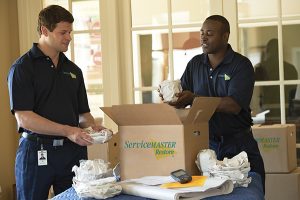 In office spaces and warehouses, expensive equipment, important documents, and other valuable items can be affected. As a result, you may be forced to partially or fully shut down operations for an undetermined amount of time.
In either scenario, time is of the essence, as many damaging elements will do more harm as time goes by. Our technicians can provide content cleaning services to vastly reduce the risk of permanent damage being sustained, and restore your belongings to the fullest extent possible. We will do this on-site if your building is in a secure condition. If it is not, we suggest that you utilize our pack-out services.
Content Cleaning and Pack-Out Services – Watch Our Video:
For content clearing and pack-out  services in Los Angeles County, CA, contact ServiceMaster by T.A. Russell at (626) 386-8834.
Trusted Pack-Out Services
ServiceMaster by T.A. Russell is a highly trusted name in the disaster restoration and cleaning industry because of the years of experience we have providing quality services to home and business owners alike. Our technicians are highly trained, certified, and give your items the greatest odds of being fully restored. When your property is not safe enough to conduct content restoration services there, we will do so at one of our secure, climate controlled facilities. The process goes as follows:
We will determine if your property is stable enough to perform restoration work there
If it is not, then we will document all of your items on an inventory list, and provide this list to you and your insurance provider
We will proceed to ship your belongings to our facility
At our facility, we will repair, sanitize, and deodorize your items
Until your property is ready, we will safely store your belongings at our location
When you are ready, we will transport your items to your door
If you would like to take advantage of our content cleaning and pack-out services, or if you have any questions, you can reach our representatives at (626) 386-8834. ServiceMaster by T.A. Russell is available 24 hours a day, and can respond to emergencies within 2 to 4 hours of your call.
We proudly service property owners in West Covina, Arcadia, Glendora, Pomona, Burbank, San Fernando, Alhambra, Monrovia, Diamond Bar, San Dimas, and Claremont in L.A. County, CA.
---
Related Content Cleaning and Pack-Out Services
Content Cleaning and Pack-Out Services in Azusa, CA
Content Cleaning and Pack-Out Service for Glendale, CA
---
Recent Reviews
Review by L.J.
Rating

"Your movers were great!!! I glad to see women in those positions."
---
Review by P.D.
Rating

"ServiceMaster was very professional and thorough with my loss and lived up to their name, ServiceMaster CLEAN."
---
Review by P.M.M.
Rating

"Came immediately and tailored the equipment to our needs."
---
See All Reviews