Green Planet Restoration
Se habla Español
For as common as water damage is in a home or building, it can be difficult to determine the extent of the damage as it can slowly spread throughout the building. There are many potential causes for water damage, such as rain, floods, or leaks from pipes or fixtures, and once water damage is discovered, it should be addressed immediately to prevent the damage from spreading and becoming a major loss. Green Planet Restoration provides water damage cleanup and restoration services to remove excess water from homes and businesses in Glendale, CA.  We provide a quick response to your call to mitigate the damage before it spreads any further.
Our services help restore your property's structure, contents, and environment faster and better than our competitors, resulting in a more effective service and less damage done to your property.  If your Glendale home or business suffers from water damage, call the experts at Green Planet Restoration. Our staff is ready to respond 24/7 to minimize damage when burst pipes or weather events including heavy rain and flooding cause water intrusion.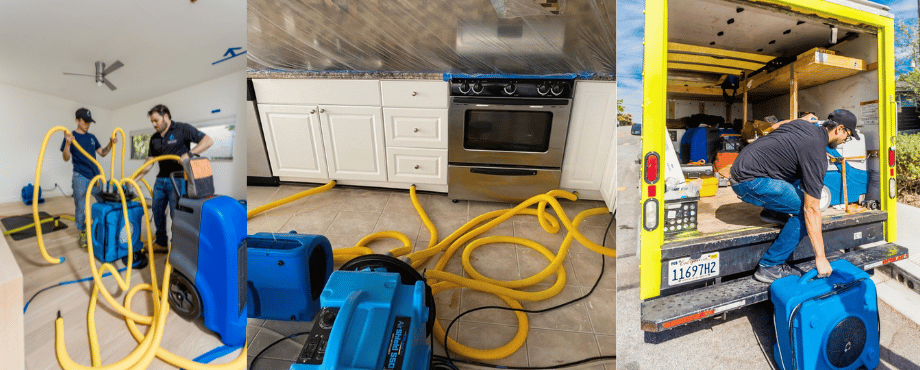 Green Planet Restoration Water Damage Restoration and Cleanup Procedure
Our technicians at Green Planet Restoration have the training and certification necessary to provide effective water damage cleanup and restoration for commercial and residential settings. We are committed to completely restoring your home or office to its pre-loss condition, and we use the most advanced cleaning products and equipment in the industry to restore the structural elements and furnishings of the building.
The water damage restoration and cleanup procedure that we follow contains the following phases:
Phase 1: Emergency Response: We will arrive within 2 to 4 hours of your call to mitigate and assess the damage.
Phase 2: Water Removal and Drying: Our water extraction systems will remove excess water and moisture, and our drying equipment will help dry the building and its furnishings.
Phase 3: Reconstruction and Cleaning: We can restore or replace structural elements and furnishings that have been damaged by the water.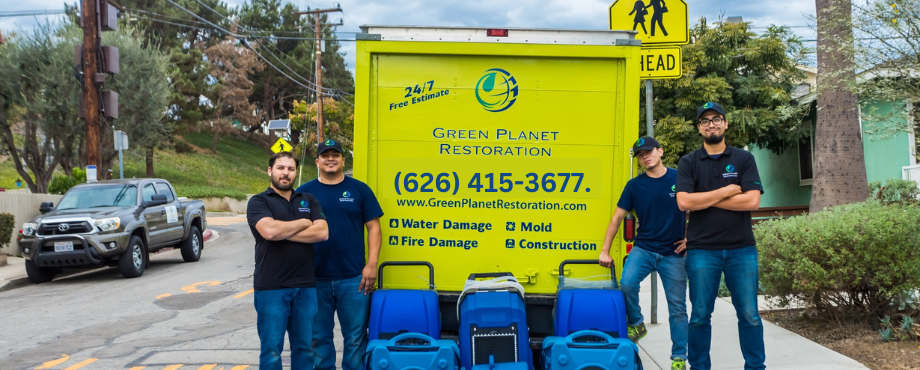 Commercial Water Damage Restoration and Clean up for Glendale, CA
Because water damage is so common, it regularly occurs in offices and other commercial settings, as well as in homes. Commercial water damage must be addressed immediately because by allowing it to spread, you will not only allow more extensive damage to occur but the water extraction and cleanup for extensive water damage in Glendale, CA can interrupt daily business operations. We at Green Planet Restoration will remove excess water from your business and restore the resulting damage to help get your business back to normal.
What to do in Case of Water Damage in Glendale, CA
Prevent the damage from spreading by calling Green Planet Restoration as soon as you discover water damage.
Mop or blot dry to remove excess water.
Remove wet area rugs and other temporary floor coverings, but permanent carpeting should be removed by professionals.
Keep your drapes dry by putting the bottoms through a coat hanger and hanging it on the rod to keep them off the floor.
Wipe down wet furniture and put aluminum foil under the legs; wet cushions should be propped up to dry.
Photos, paintings, and similar items should be moved to a safe place.
Water-damaged books should be kept packed together on their shelves to prevent warping until they can be properly restored.
Open up doors, drawers, and cabinet doors to help the drying process.
What NOT to Do in Case of Water Damage
Do not try to clean up mold growth.
Do not enter a room with standing water until the power is turned off.
Do not use a regular vacuum to remove standing water.
Do not try to remove permanent carpeting.
Do not use electrical appliances on a wet floor.
Watch Video for more information on Water Damage Restoration:
Contact Us for Water Damage Restoration and Cleanup in Glendale, CA
If water damage occurs in your home or building, reacting quickly is the key to minimizing the damage, as it can spread throughout the porous building materials of the structure. Contact Green Planet Restoration immediately for water extraction and water damage restoration services in Glendale, CA.  We are ready to take your call 24 hours a day at (626) 415-3677. We offer free estimates for our water damage cleanup and restoration services.
---
Service Areas:
Professional Water Damage Repair in Burbank, CA
Water Damage Restoration Company in Alhambra, CA
---
Recent Reviews
Review by Mihal And Shane C.
Water Damage Restoration
Rating

"Ruben and his Team were responsive, efficient, and professional. We had a leak and asbestos … Ruben & Team came in to do their part, and they did it well and in a timely manner. Thanks!"
---
Review by Angelita C.
Water Damage Restoration
Rating

"Having a pipe burst unexpected and damage your home during a pandemic can be very unsettling but working with Green Planet Restoration was an amazing experience. From the moment their personnel showed up I knew I was in good hands. They were able to talk me down from panic mode and got to work. Denny and his crew had a plan from the moment they got to the house. He also worked very well with my insurance company. Cesar and his crew (Jose, Julio & Alex) treated my home and belongings with the utmost care almost like they were working in their own homes. All boxes were labeled and organized by room. And Eric and NIr went above the call of duty in working with me during a very stressful situation. I had a lot going on in my personal life during this time and they really took care of things. Green Planet Restoration is a company that takes customer service seriously. The showed a human side that I have not experienced in a while working with a business. They understood that we are all human and we all need help sometimes. I would definitely recommend them to family and friends."
---
Review by Katherine K.
Water Damage Restoration
Rating

"Had a flood in our house, called Green Planet at 6am and they were there to clean up in about 2 hours. They neatly wrapped up all of our furniture and brought it back once the repairs were completed. Cesar was great and his crew was awesome. They worked fast, they were clean, none of the furniture was damaged or missing. They assembled and placed everything according to my instructions. And anything I didn't want they offered to dispose of for me. Overall, a great team to work with! I would give them 10 stars of I could, very happy customer!!"