Unfortunately, there are times when a death or serious injury may occur as a result of an accident or a crime and if you encounter such a scene, it is important to take the right actions. These scenes often contain dangerous biohazard materials such as blood and bodily fluids and if a crime has been committed, then the cleanup effort must be done in cooperation with law enforcement to avoid compromising the investigation. RestorationMaster provides trauma scene cleaning services in Colorado Springs, CO to clean up biohazard materials from accidents or crime scenes. We can effectively clean and sanitize the area and we will work with law enforcement in cases where a crime has been committed.
Trusted Biohazard Cleaning Services
Our technicians at RestorationMaster have the certification and specialized training to clean up crime and trauma scenes and safely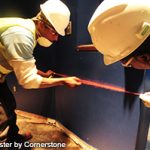 remove biohazard materials such as blood, tissues, and other bodily fluids. Biohazard materials may harbor dangerous toxins that can spread disease or infection which is why they should be cleaned up by certified professionals. We can remove and properly dispose of biohazard materials using the most advanced cleaning products and equipment of the industry. Our biohazard cleaning services include the following steps:
Decontamination: The scene is completely sanitized and decontaminated after the biohazard materials are removed.
Odor Removal: Foul odors are removed using powerful deodorizers.
Safe Disposal: All biohazard materials are safely removed and transported to a licensed facility for proper disposal.
Continuous Monitoring: We stress quality control and communicate with you regularly throughout the process to finish the job quickly and efficiently.
Insurance Assistant: We help coordinate all claims with your insurance company.
Family Assistance and Support: We help families who are having difficulty with the situation find counseling professionals who can offer support.
Certified Technicians: Each of our technicians have the specialized certification to provide biohazard cleaning services in compliance with local and state government regulations.
Situations involving serious injury or death are emotionally overwhelming and they can also be dangerous if there are biohazard materials present. The technicians of RestorationMaster are dedicated to providing effective biohazard cleaning services in Colorado Springs, CO and we work with a sense of compassion because we understand the sensitivity involved with the situation. Contact us anytime, 24 hours a day for emergency biohazard cleaning services.