Mold is a very difficult substance to deal with because it can appear in your home or building at any time and removing it yourself can be ineffective and dangerous. There is always a certain level of mold spores in the air and when these spores encounter an environment that provides a moisture source and food source, they will form into a mold colony. Mold growth can cause considerable damage to the affected surfaces and objects as well as threaten the health of those within the home or building. RestorationMaster provides mold remediation services to remove mold from homes and businesses in Colorado Springs, CO. Our technicians are highly trained and certified to remove mold contaminations over an area of 10 square feet or less.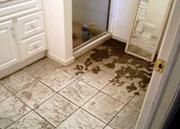 The biggest trigger of indoor mold growth is excess moisture which can be caused by flooding, leaks, high humidity, or broken pipes. It is important to check for mold growth after sustaining any type of water damage because mold can appear within just 48 hours. Mold uses cellulose, a substance commonly found in wood and drywall, as a food source and it can cause severe damage to the affected surfaces as it gradually eats away at the materials. The other major problem with mold is that it can trigger a range of negative health reactions in those who are exposed including various allergies and even infection. The best way to prevent mold in your home is to keep the moisture level under control and dry wet building materials quickly.
As soon as you discover any level of mold growth in your home or building, make sure you call us for professional mold remediation. Our technicians can effectively isolate and remove mold contaminations in an area of 10 square feet or less using the most advanced cleaning products and equipment available. If the mold contamination covers an area larger than 10 square feet, we will get additional help from technicians that are certified by the IICRC, Interactive Occupational Training for Mold Remediation (IOT), Indoor Air Quality Association (IAQA), and Applied Microbial Remediation Specialist (AMRS).
The presence of mold in your home or building can be destructive and dangerous so make sure you take action as soon as possible. The technicians of RestorationMaster are ready to provide mold remediation for small contaminations in Colorado Springs, CO and we can refer larger contaminations to certified technicians equipped to handle the job. We are available 24 hours a day at (888) 915-7197 for mold remediation services.