How to Clean Up Damage After a Pipe Bursts
Water damage can be sourced by many things, which helps make it possible for such harm to occur at nearly any time. There are natural causes of water damage, such as heavy rainfall and flooding. There are also internal issues that can result in water damage, such as pipe leaks and overflows. The myriad of potential sources is what contributes to water damage being a leading cause of property damage.
Damage from a Burst Pipe
A pipe burst is another way that your home or business may sustain water damage. Such an event can occur due to freezing temperatures, pressure, clogs, and other factors. No matter what the cause of the pipe burst, it is important to act quickly.
Porous building materials and furnishings will absorb the excess water that escaped via the pipe burst. This absorption will gradually ruin their structure. Failure to address the situation right away will allow the damage to worsen and increase the potential for mold growth. This will cause its own additional damage. Therefore, do not wait to handle a pipe burst.
Continue reading to learn how to clean up damage after a pipe burst.
Shut Off the Water
Before you conduct any cleaning, you first need to address the source of the water. Otherwise, water will continue to make its way into your home or business and cause further damage. If this happens, then any cleaning and restoration efforts you do will be pointless.
In the case of a pipe burst, fixing the pipe may not be easy, but stopping the source is simple. Just shut off the main water line to ensure water does not continue to pour into your property.
Turn Off the Electricity
Water and electricity do not mix, and such a combination will only increase the potential danger of your pipe burst situation. As such, prioritize your safety and shut off the power to prevent electrocution. If you cannot safely turn the electricity off on your own, call your power company and ask them to do it for you. You want the electricity to be off until the excess water is removed.
Move Wet Belongings
Time is a crucial factor in determining whether certain materials and items can be saved. Therefore, you need to move whatever wet items you can from the affected area to someplace dry. This will ensure they do not suffer further damage. In addition, move unharmed items to a safe, dry area to prevent them from becoming damaged.
Document the Damage
Documenting the damage is a good idea because it will provide you with evidence you can use for insurance claims. Take photos, record videos, and write notes. This will also help you get a better idea of how much damage occurred.
Get Rid of the Excess Water
The sooner you remove the excess water, the less damage your property and personal belongings will experience.
If there is a large volume of standing water, then a pump or wet-dry vacuum are effective options for water extraction. This equipment can be rented from a hardware store if you do not already own one. You can also use the old-fashioned method of using buckets to move the water out of your property. If there is minimal water, then you can soak up the water using a mop and towels.
Furthermore, remove any damaged materials ― such as rugs and carpeting ― that you were not able to move out before the damage occurred.
Dry the Area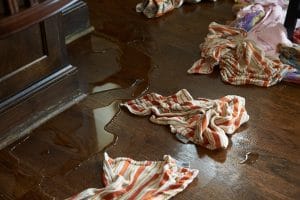 Once the excess water has been removed, focus on drying the affected areas. If weather permits, open windows and doors to increase air circulation. Set up any electric fans you have and turn them on to their highest setting.
If you own a dehumidifier, use it to help remove remaining moisture from the area. If not, then you should consider renting one.
Get Professional Water Damage Restoration Help
When your residential or commercial property has suffered water damage due to a pipe burst, immediate action will limit the damage. This will give your property and personal belongings a greater chance of being salvaged. If you wait to act, then damaged building materials can deteriorate, making them unstable.
However, you may not always be able to work on the issue yourself. You may feel unsafe about the situation, or you may not have the equipment to handle water damage. No matter what the reason, it is always in your best interest to seek help from a professional water damage restoration service.
Water damage technicians have the necessary expertise and equipment to safely remove excess water and restore or replace damaged materials. They can also address any mold that has grown as a result. With professional help, your residential or commercial property will be free of water and safe to return to.