(888) 915-7197
A fire in a home or building can cause devastating damage but the worst of the damage is actually caused by smoke and soot after the fire has been put out. Smoke from the fire leaves behind an oily residue and soot that each cause considerable damage to the affected surfaces and objects, and it also leaves behind an unpleasant odor that is very difficult to eliminate. RestorationMaster provides smoke and odor mitigation services in Colorado Springs, CO to remove smoke odors and clean up the damage caused by smoke residue and soot. We use advanced technology and equipment to completely restore soot damaged objects and ensure that the smoke odor is completely removed.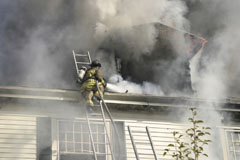 Smoke damage is the most common during a house fire but you can also experience smoke damage in your home from less severe incidents caused by candles, cooking, or fireplace fires. Burnt synthetic materials create an oily smoke residue that is corrosive to household surfaces and soot can settle throughout a home and cause etching and discoloration. The longer soot and smoke residue is left, the worse the damage will get until it eventually becomes permanent. Our technicians can effectively clean and remove damage from soot and smoke residue using powerful chemical cleaners. A fast reaction to smoke damage increases the likelihood of salvaging your damaged materials.
Smoke Odor Removal
Another major issue caused by smoke is the foul odor that it leaves behind. Smoke odor can penetrate porous materials in the home and get trapped, making it very difficult to eliminate or cover up the smell. Our technicians use advanced deodorization technology including ozone technology, Nano carbon technology, and hydroxyl technology to ensure that the smoke odor is completely removed from the air and affected surfaces. Our smoke odor removal process includes the following steps:
Complete assessment of the problem
Removal of the odor source
Deodorization of surfaces and materials
Deodorization of the air spaces
Air washing
Sealing of porous surfaces
Putting out a fire does not stop the damage from spreading as soot and corrosive byproducts from the smoke continue to cause damage and leave foul odors in the aftermath. Make sure you call RestorationMaster immediately after a fire in Colorado Springs, CO to clean up the smoke damage and remove the odors with our deodorization process. You can reach us 24 hours a day at (888) 915-7197.