Fires are terrible disasters to experience because they quickly cause deep, layered damage and put those within the home or building at serious risk. Making sure everyone is safe immediately after a fire is your top concern and once this is done, you must focus on the restoration. Fires leave behind smoke, soot, and corrosive byproducts that still cause damage after the fire is put out. RestorationMaster provides fire damage restoration services for homes and businesses in Colorado Springs, CO to repair and clean up the damage caused by fires. We have the experience and the best equipment available to reverse the effects of fire and soot.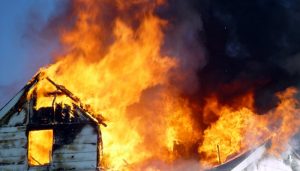 Fire damage requires immediate attention because fires cause certain chemical reactions that leave behind corrosive byproducts that can do some serious damage. Synthetic materials create corrosive byproducts when they are burned and soot from the smoke creates nitric acid when it combines with the water used to put out the fire. The soot and corrosive byproducts can cause discoloration and etching on many different surfaces and objects and this damage will become permanent if the soot and corrosion is not removed quickly. We use the most powerful cleaning products of the industry to effectively restore all types of surfaces and objects that have been effected by soot and corrosion.
As soon as the fire is out, call RestorationMaster to begin the fire damage restoration. As you wait for our technicians, make sure to follow these tips to help limit the damage:
What to Do After a Fire
Open up doors and windows to air out your home if the temperature outside is above 60 degrees.
Wipe off chrome, Formica, aluminum, and porcelain surfaces to prevent permanent damage.
If your furnace uses forced hot air, change the air filter.
Throw away any open food containers.
Put a damp cheesecloth over each return and supply register to catch loose soot from the air.
If the power is off, thoroughly clean out your refrigerator.
Save your clothing for a professional restoration dry cleaner.
What Not to Do After a Fire
Avoid touching anything because the natural oils in your hand can penetrate wood and drywall and make the damage worse.
Do not try to wash soot damage from the walls because improper cleaning methods will make the damage worse.
Do not try to clean your carpeting or upholstery.
Avoid using any electrical appliances until they have been inspected for safety.
Do not use ceiling fixtures that are on a wet ceiling.
Just because the fire is out, that does not mean you are safe from further damage. Make sure you contact the professionals of RestorationMaster right away if you experience a fire in your home or business in Colorado Springs, CO. We are available 24 hours a day at (888) 915-7197 to respond to fire damage emergencies.