(888) 915-7197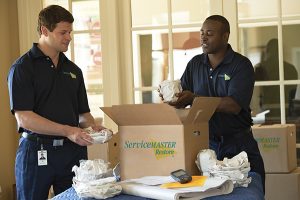 Every home is filled with a range of personal belongings including clothing, electronics, and various knickknacks, and any of these items can become severely damaged in a disaster. Fire, smoke, excess water, and mold can each damage a variety of personal items and many of these items are fragile enough to become permanently damaged. Your content must be restored as soon as possible to prevent them from sustaining permanent damage. RestorationMaster provides content cleaning and pack-out services in Colorado Springs, CO to clean and restore personal items that have been damaged. We can effectively clean your content in your home with our advanced equipment, or if your home is in unstable condition, we will do a pack-out and take your items to our facility for cleaning.
Content Cleaning and Restoration
Natural disasters such as floods, fires, and mold are difficult to contain which is why all of the items in your home are vulnerable to damage. After a disaster occurs, you should inspect your home to take inventory of the damage to the structural elements and furnishings as well as your belongings. We can thoroughly clean and restore all types of personal items using the most effective cleaning products and equipment available, and we will also help you coordinate insurance claims with your provider. Our technicians have the equipment and experience to fully clean and restore your items in your home but if your home is in no condition for on-site cleaning, we can take them to our facility with our pack-out services.
Pack-Out Services
Sometimes a disaster leaves homes in a dangerous or unstable condition and when this happens, we will transport your items to our facility for cleaning and storage. We start by carefully packing up your damaged items and our technicians will add each item to an inventory list as it is packed. The inventory list is a comprehensive list of every item that is taken for pack-out services and a copy of the inventory is provided to you and your insurance company. After cleaning and restoring your content, we will store it in our secured, climate controlled facility until you are ready to have them delivered to your home by one of our technicians.
Natural disasters create quite a mess of a home and extensive damage to your personal belongings only adds to the frustration. RestorationMaster can provide content cleaning and pack-out services as part of our disaster restoration services for homeowners in Colorado Springs, CO. Our phone lines are open 24 hours a day at (888) 915-7197 to provide emergency disaster restoration and content cleaning services.