How Smoke Damages Your Home's Contents
When a fire breaks out in your home, it can spread quickly, causing severe damage to the property and your belongings. The flames devour everything in their way, burning and charring items and structural elements. Given the amount of damage caused by the flames, it's a relief when the fire's extinguished. However, the damage is not done just because the flames are no longer present.
When flames burn, they produce smoke which is a byproduct of incomplete combustion. This occurs when there is an insufficient amount of oxygen to burn the item. The smoke will continue to linger and cause damage after the fire is out.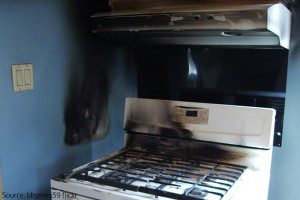 The severity of the fire damage varies based on the fire's type and temperature. Depending on the extent of the damage, your property and belongings might be salvageable.  When it comes to smoke damage, some items can be cleaned more easily while other items can suffer permanent damage within hours. The longer the smoke damage goes untreated, the greater chance there is for permanent damage. Because of this, it is crucial to conduct fire damage restoration right away.
Read on to learn more about how smoke damages your home's contents and how you can clean these items of any smoke damage.
General Smoke Damage
One of the greatest concerns with smoke damage is smoke odor because the smell can linger for months. Smoke particles are very fine, so they can get into small crevices and cracks and settle. It is easy for these affected areas to go undetected, allowing the smell to remain until it is properly addressed.
Because of this, your home must be sufficiently ventilated to allow the particles to leave the property. Using odor neutralizing products can help remove the odor, but it will only be completely eliminated when the smoke particles are removed. The particles' presence is what allows the smell to linger. This only accounts for the particles out in the open air. Affected surfaces and materials need to be properly cleaned to rid of the smoke odor.
Hardwood Flooring
Hardwood flooring is a porous material, so it can easily absorb smoke particles. These particles will become deeply embedded into the material, making them difficult to remove. If the damage is minimal, then simply mopping and deodorizing the flooring can be sufficient. Otherwise, the hardwood flooring needs to be refinished or replaced if it suffered extensive damage.
Wooden Furnishings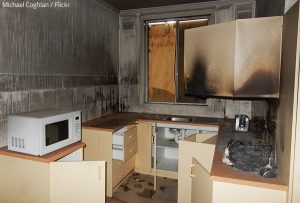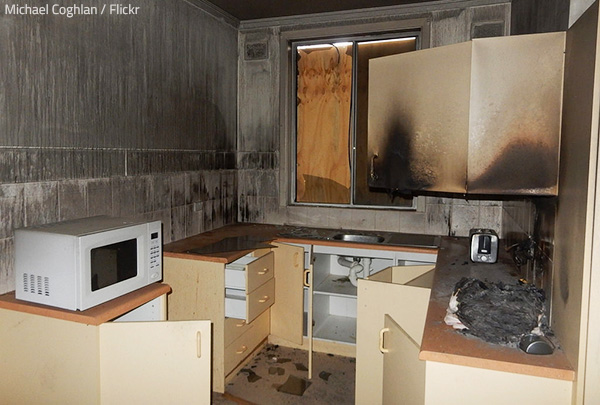 Wooden furnishings can be tough to clean of smoke damage because of the stain and varnish. You do not want to use any cleaning products or methods that will strip the furnishings of the stain, so it is important to clean these items using a proper cleaning agent. If you are unsure of how to clean your wooden furnishings, then consult a professional for help.
Curtains and Upholstery
Smoke particles will settle onto curtains and other upholstery, eventually becoming embedded into their fabrics. You will need to use special tools and methods to remove these particles. Do not use a standard home vacuum to remove smoke particles from curtains and upholstery. Doing so can worsen the smoke damage because it can push the particles even further into the material.
Clothing and Bedding
Clothing and bedding can also be affected by smoke damage, and this even includes those items that are placed in a closed closet or drawers. These materials suffer damage by absorbing the lingering smoke odor. Because smoke particles are so fine, they can easily make their way through any small cracks and crevices, which is how they can reach your clothing in enclosed areas.
To eliminate the odor, the unburned chemicals must be completely removed. Washing these items in a washing machine is sometimes sufficient. However, if the odor is strong enough, more advanced cleaning methods and products might be necessary.
Metals
If it sits too long, then smoke can cause your metallic items, such as large kitchen appliances, to corrode and rust. To prevent such an occurrence, wipe down metallic surfaces with cooking oil.
Fire Damage Restoration
In the event of a fire, immediate action is crucial. This not only means getting immediate help to extinguish the fire but to clean up the damage caused by the fire and its after-effects, such as smoke. If the damage is not addressed in a prompt manner, then there is a greater chance the damage — particularly the smoke damage — becomes permanent. Because of this, it is best to get fire damage restoration help from a professional.
With help from fire damage restoration services, fire and smoke damage your home suffered can cleaned. The emergency pre-cleaning performed as part of the fire damage restoration services will help prevent the smoke damage from becoming permanent. Then, professional technicians proceed with the service by cleaning and restoring your home and personal contents of the damage sustained. Your home will be restored to a clean, healthy living space free of smoke odors once again.