Water is the most abundant natural resource and it is all around us because it is necessary for life. However, if excess water or moisture gets into your home or business, this can result in very significant damage. Most building materials are porous and allow water to spread through them which not only increases the risk of severe structural damage, but also mold growth. RestorationMaster provides water damage restoration services to help remove excess water from homes and businesses in Colorado Springs, CO as well as repair and restore the damage. We respond quickly to help keep the damage contained and we use advanced water extraction and drying equipment to ensure that all moisture is removed.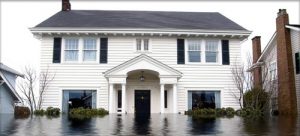 Water damage is difficult to prevent because it can come from rain, outdoor flooding, leaks, pipe bursts, overflows, and even sewage backups. The biggest problem with water damage is that the moisture can get absorbed into the walls, flooring, and other structural elements where it causes damage by weakening the materials. These materials also become vulnerable to mold or bacteria growth from the moisture which can make the damage worse and cause certain health issues. Our technicians are committed to stopping the spread of water damage in your home or building and getting it cleaned up and restored to its previous condition. We use the best extraction and dehumidification equipment available to remove all excess moisture and we will fully clean and disinfect the area to prevent mold or bacteria growth.
Sewage Backup
Sewage backups cause more problems than just water damage as they contain harmful materials such as bacteria and viruses that can cause serious health issues. If you suspect that your home or business is flooded with sewage, avoid all contact with the water and call us immediately. Our technicians are trained to safely remove sewage water and we will also clean and disinfect the area so that you can use it again safely.
What to Do After Water Damage
Mop or blot dry to remove excess water.
Remove non-permanent floor coverings like area rugs but leave permanent flooring or carpeting for the professionals.
Put drapery bottoms through a coat hanger and put the hanger on the rod to keep the drapes off the wet floor.
Put any fragile items such as photos and paintings in a dry area.
Wipe off wet furniture and prop up the cushions to dry.
Open up any doors, drawers, and cabinet doors for faster drying.
Keep water damaged books on their shelves to avoid page warping until they can be treated with specialized services.
If you suspect that there is sewage in the water, avoid all contact.
What Not to Do After Water Damage
Do not walk through a flooded room unless the power has been shut off.
Do not remove flood water with a typical vacuum cleaner.
Do not use an electrical appliance if the floor underneath it is wet.
Do not try to clean up mold growth.
Whether you experience water damage from a flood, rain, sewage backup, or leak, you must respond immediately to prevent the damage from spreading further in your home or building. The technicians of RestorationMaster are prepared to provide complete water damage restoration for homes and businesses in Colorado Springs, CO using state-of-the-art drying and cleaning equipment. You can call us 24 hours a day at (888) 915-7197 for emergency water damage restoration services.