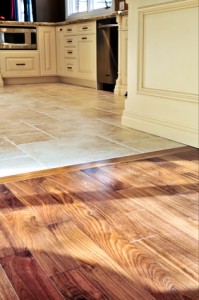 Hardwood floors are among the most visually appealing flooring options available and they add value as well as beauty to your home.  If hardwood floors are not properly maintained and protected, however, they could become dirty or damaged which affects its value and appearance.  RestorationMaster is an expert in hardwood floor cleaning in the Carol Stream area and we provide professional hardwood floor cleaning services to improve their look and longevity.
Hardwood floors may accumulate dirt and other debris within the ridges of the wood grain as well as in the spaces between panels.  This debris can cause damage to the floor by scratching the surface or defacing the wood grains.  The technicians of RestorationMaster use the most advanced cleaning products and equipment in the industry to effectively clean all types of hardwood floors.  Our cleaning methods consist of steaming and cleaning with a low chemical solution to completely remove any debris embedded in the wood grain or panels to restore the floor's original beauty.
Hardwood floors are a significant investment in your home and with the hardwood floor cleaning services from RestorationMaster , you can protect your investment.  Contact us at (630) 576-0336 for professional hardwood floor cleaning services in Carol Stream IL.