RestorationMaster is a leading expert in mold remediation and cleanup in The Villages, FL area. We understand the dangers of mold and mildew and want to properly clean your property to ensure you and your family are safe.
Mold can easily travel throughout your home while landing on walls, furniture and carpets. Because of this, a quick cleanup time is essential to keep the mold at bay. Here at RestorationMaster, our employees go through ongoing mold removal training. We are here to ensure the cleanup process is smooth and thorough.
Mold Remediation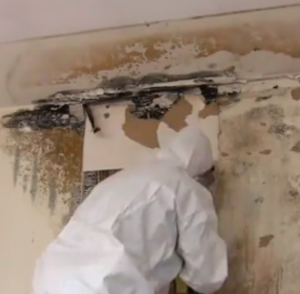 By following IICRC recommended procedures, our team of experts can control the spreading of this dangerous substance. Mold remediation is important because untreated mold can pose a variety of health risks, including asthma and allergic reactions, as well as significantly decrease property resale value.
Here at RestorationMaster, The Villages FL, our team of technicians will help you identify the source of mold and help you prevent it from coming back.
Our mold removal service includes:
– Air scrubbers
– Heap vacs
– Personal protective equipment and containment barriers
– Air quality sampling
Once the mold is removed, our technicians will properly dispose of contaminated materials. Mold remediation takes professional precautions since mold spores can easily spread to other materials. At RestorationMaster, we believe in keeping your family safe in your home for years.
For professional mold remediation and mold removal services in The Villages FL area, call RestorationMaster.